Trailer Park of Terror
(2008)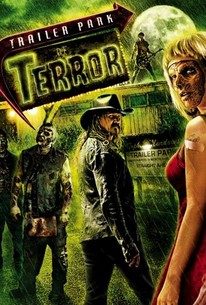 AUDIENCE SCORE
Critic Consensus: No consensus yet.
Movie Info
A busload of troubled teens and their counselor find themselves on the road trip from hell when they get waylaid by bloodthirsty hillbilly zombies in an out-of-the-way small town in the south. Nichole Hiltz is a trashy treat as the head villainess with a horrifically wide variety of doing away with her victims. Ryan Carnes, Jeanette Brox. Directed by Steven Goldmann. Country-music star Trace Adkins has a cameo as a mysterious man in black. The film is based on the Imperium Comics series.
Critic Reviews for Trailer Park of Terror
All Critics (2) | Top Critics (1) | Fresh (0) | Rotten (2)
Even if the climax feels too routine to live up to the delirious set-up, the high production values remain a constant surprise, and there is no doubting that this grisly gorefest is a genuine crowd-pleaser.
August 28, 2008

It's hard to envision a more objectionable and flat-out interminable contemporary horror effort...
Audience Reviews for Trailer Park of Terror
As far as Straight to DVD horror films are concerned, Trailer Park of Terror is one of the better low-budget shockers. The film is half Exploitation film, half horror comedy and half zombie film. I was pleasantly surprised by this film and despite all the negative reviews that this movie has received; this is a very entertaining film that will certainly appeal to the most die-hard horror fan. The film does have its fair share of flaws, but it is still worth seeing for its sheer ridiculous premise. I enjoy these low-budget horror films more than the big Hollywood horror flicks because they tend to me much satisfying in terms of originality. Big Studios are more interested in remaking films and the sheer lack of creating something new and interested is more of a low-budget thing. Trailer Park of Terror is one of those films. This is a well made film that is demented from start to finish and a must see for genre fans tired with the current state of horror. Director Steven Goldman delivers something unique here with a cool idea, a decent cast and effective comedic moments that delivers plenty of shocks, chills and laughter. Films like this are rare in the genre and it would be great studios would want to create something refreshing once in a while instead of remaking every single horror film that has been released in the 1980's. For a low-budget feature, Trailer Park of Terror gets a lot more accomplished than most big budget horror yarns. This is the type of film that proves that you're able to pull off something very entertaining with the smallest ideas. If you come across this film and you enjoy horror, and then definitely give this one a shot, you'll be glad you did.
½
Good enjoyable fun that delivers what it says as 6 friends stumble into a trailer park haunted by hillbilly zombies after their bus breaks down near-by. The film teased a little bit longer than I would have liked before it got to the good stuff, but it serves up enough entertainment to provide a good nights viewing. Excellent make-up effects, though it was a little light on gore, but the zombies looked great! The movie also features a few amusingly cool songs along the way too. I didn't find the film amazing overall but it's a recommended watch, especially over halloween.
Another low budget straight to DVD release. Starts off well but ends up more of a horror comedy?! The make-up effects and design for the dead characters is pretty good but that's about the only positive. Reminded me a bit of House (More like this) section, but that was much better.
Trailer Park of Terror Quotes
There are no approved quotes yet for this movie.