Traitor
(2008)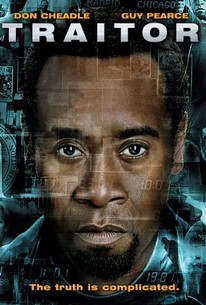 TOMATOMETER
AUDIENCE SCORE
Critic Consensus: Despite another reliable performance from Don Cheadle, Traitor suffers from too many cliches and an unfocused narrative.
Movie Info
When straight arrow FBI agent Roy Clayton heads up the investigation into a dangerous international conspiracy, all clues seem to lead back to former U.S. Special Operations Officer, Samir Horn. A mysterious figure with a web of connections to suspect organizations, Horn has a knack for emerging on the scene just as a major operation goes down. The inter-agency task force looking into the case meets with Carter, a veteran CIA contractor who seemingly has his own agenda and Max Archer, a fellow FBI agent. The task force links Horn to a bombing in Nice and a raid in London, but a tangle of contradictory evidence emerges, forcing Clayton to question whether his quarry is a man without loyalties--or something far more complicated. Obsessed with discovering the truth, Clayton tracks Horn across the globe as the elusive ex-soldier burrows deeper and deeper into a world of shadows and intrigue.
News & Interviews for Traitor
Critic Reviews for Traitor
Audience Reviews for Traitor
½
The only person he can trust is himself. A very solid good movie surprisingly so. The story was amazing and very creative. It's intriguing and suspenseful with a combination of drama and espionage action. The leading role acting by Don Cheadle really was impressive. The direction and photography also is top-notch. One thing that's odd about this film: it has very strong statements which will please both liberals and conservatives, both devoutly religious folks and atheists. It pretty much covers the field. Highly recommended film, Enjoy! Samir Horn (Don Cheadle), a devout American Muslim, and a former U.S. Army Special Forces expert in explosives, has been mysteriously showing up on the FBI's radar for being in the area of terrorist bombings. FBI agent Roy Clayton (Guy Pearce) heads up a task force investigation to link Horn to these bombings. Clayton is able to question Horn after he was arrested in Yemen for attempting to sell explosives to an Islamic terrorist group. The terrorists break out of prison and take Horn with them. With the help of Max Archer (Neal McDonough), Clayton is able to link Horn to a bombing of an American Consulate in Nice, and a failed police raid to capture his top terrorist contact in London. Clayton has been pursuing Horn around the world and has tracked him to the United States. Clayton must capture Horn before he strikes his next target.
½
it's okay, some good action scenes. C+