Trance
(2013)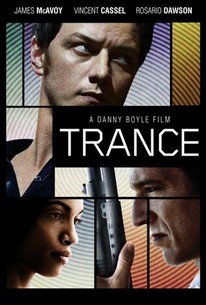 TOMATOMETER
AUDIENCE SCORE
Critic Consensus: As stylish as ever, director Danny Boyle seems to be treading water with the surprisingly thinly written Trance -- but for fans of Boyle's work, it should still prove a trippily entertaining distraction.
Movie Info
Simon (James McAvoy), a fine art auctioneer, teams up with a criminal gang to steal a Goya painting worth millions of dollars, but after suffering a blow to the head during the heist he awakens to discover he has no memory of where he hid the painting. When physical threats and torture fail to produce answers, the gang's leader Frank (Vincent Cassel) hires hypnotherapist Elizabeth Lamb (Rosario Dawson) to delve into the darkest recesses of Simon's psyche. As Elizabeth begins to unravel Simon's broken subconscious, the lines between truth, suggestion, and deceit begin to blur. (c)Fox Searchlight
News & Interviews for Trance
Critic Reviews for Trance
Audience Reviews for Trance
Danny Boyle's Trance is one of those films that boasts an impressive concept, but fails to deliver. I really expected this film to be good, but the end result is a mediocre film that just doesn't have what it takes to be an entertaining action thriller. The film has an impressive cast, an original concept, but one that I felt was underdeveloped and one that ultimately left a lot to be desired. I really wanted to get into this film, as I think that Danny Boyle is a terrific director, and he is among my favorites. However here he presents a film that is disappointing despite its premise, and you wonder how something interesting could fall flat. I expected much more from this film, and if you're looking for a thrilling film, you'll be disappointed with Trance. The film is all style and no real sense of substance. Trance ends up being a dull film, one that should have been great. Instead, it squanders its potential, and tries to overwhelm you into its spider web of so called thrills. I simply felt that the film didn't work, and it could have been better considering the talent involved in front and behind the camera. This is a film that tries too hard at capturing your attention, and in doing so, you're lost in its complexities, and it is a film that is hard to follow and not as interesting as it tries to be. Trance could have been a highly memorable film, but it ends up being disappointing and I feel that there is something missing here to make it a better film.
½
Entertaining British crime caper but I found the characterisations a bit hard to believe and the plot becomes a bit too confused.
Ross Collins
Super Reviewer
½
Trance sees director Danny Boyle return to the kind of kinetic sensory-overload-with-attitude that harkens back to his early days of Trainspotting glory. And while the images are undeniably beautiful, and the three main cast members are all excellent, nothing can save a story that veers quickly and remorselessly into nonsense territory. In fact, what's frustrating about the movie is that it uses its buckets of disorienting style in an attempt to distract audiences from a storyline that progressively gives up every thread of logic, as it transforms from an enjoyable heist movie with a psychological twist in to a melodramatic Inception-esque romance/thriller with a bonkers action-movie finale, all of which comes off as tonally confused as it sounds. Beautiful, yes, but in the end, no amount of captivating visuals are enough to lull the audience into forgetting the movie's many flaws. It's basically The Beach all over again.
Sam Barnett
Super Reviewer