Trancers
(1985)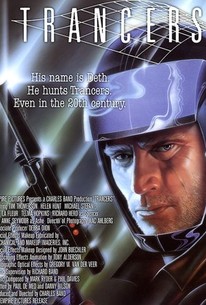 Movie Info
With the whimsical tagline "Jack Deth is back and he's never been here before," director Charles Band melds Blade Runner, The Terminator, and Jingle All the Way for this low-budget science fiction adventure. The story takes place in Angel City in the year 2247, when enforcer Jack Deth (Tim Thomerson) has just retired from the weekly grind after vanquishing villain Martin Whistler (Michael Stefani) and his roving cohorts, called "trancers." But Whistler and his trancers have gone back to Christmas 1985, with the insidious plan of exterminating the ruling council by killing off all the council members' ancestors. So Deth agrees to go back in time to get Whistler and the trancers all over again. To do so, he must transfer his memory into the body of one of his ancestors, who in this case has just had an erotic interlude with the perky and attractive Leena (Helen Hunt), who works as a Santa's elf at a shopping mall and gets to wear a skimpy, tight-fitting elf suit. Deth discovers that Whistler has taken over the body of the police inspector and has started transforming the Los Angeles population into trancers --including Santa Claus. With Leena's help, Deth sets out to even the score.
Critic Reviews for Trancers
Audience Reviews for Trancers
½
You have to laugh when the poster showcases equipment the lead character will never wear. The film was not the worst, but it was not the guilty pleasure I had expected. I wanted to enjoy this film and for the first twenty minutes I thought I was on the right track. The music is comedic at the diner, it sets the tone for the rest of the film, this is not serious and appears to be a studio film ahead of all the studio films now. This had potential to be something more. The film has some fun and seeing a young Helen Hunt in action was an interesting surprise. 23/09/2018.
Brendan O'Connor
Super Reviewer
Tim 'king of the sci-fi B-movie' Thomerson is again in yet another time travelling sci-fi flick and again he's a cop with a really good name...meet 'Jack Deth'. Yep another cracker alright, this film makes Pyun's films look like mega budget affairs with top class acting. There really isn't much I can be positive about here, its not even enjoyable as a daft B-movie like 'Dollman'. Terrible effects with dreadful acting and some almost Ed Wood style moments of corn and action...plus the plot is surreal and incomprehensible at times. Look out for Helen Hunt and Thomerson with dark hair! amazingly Thomerson acted in another four more of these with Helen Hunt. On the plus side the electro synth musical score is really good and quite haunting. It really adds a touch of emotion to the film even though there is no emotion to be had because its so low budget and cheesy. Love the films poster art too.
Phil Hubbs
Super Reviewer
An okay sci-fi action thriller, with an average cast, and a predictable ending. It has some good scenes, but it could have been a lot better.