Transamerica
(2006)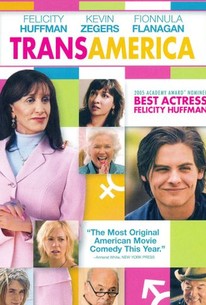 Movie Info
The first film by Duncan Tucker, Transamerica stars Felicity Huffman as a pre-operative transsexual named Bree (whose given name was Stanley). One week before going under the knife, Bree learns that she fathered a boy who is now 17 and is in trouble with the law. Bree would like to ignore this information, but is forced to meet the young man, Toby (played by Kevin Zegers), by her analyst Margaret (Elizabeth Peña), who will not allow the surgery to happen unless Bree meets him and confronts this aspect of her past. Upon meeting, the son believes that Bree is simply a do-gooder. She buys a car and the two road-trip back to her home in Los Angeles, Bree all the while attempting to keep from Toby the truth of the situation. ~ Perry Seibert, Rovi
News & Interviews for Transamerica
Critic Reviews for Transamerica
Audience Reviews for Transamerica
"Transamerica" is really the first film to truly focus on the journey of a transsexual, while also dealing with a complex story filled with interesting characters, and on top of that using a frame narrative of a road trip. The transformation made by the main character not only remains inspiring for the audience, but was also bittersweet when watching the stagnant life built around Bree (Huffman) and what becomes of her in the end of the film. The characters are also varied and complicated, from her therapist to her biological son (Zegers), who she road trips with from New York to Los Angeles. Bree is a pre-op transsexual who has just found out she has a son by the one girl she had sex with before starting her transformation into a man. Her son lives a life as a recluse and drug addict in New York City, prostituting himself and dreaming of a day that he can go live with his real father out in Hollywood. Abused and worse for wear Toby (Zegers) meets Bree, who works under the guise of a church patron in order to get Toby to go with her and find him a home before her therapist will sign off for the surgery. Bree finds herself really living for the first time since her journey began, and by the end she has found something out about herself, as well as found herself able to understand what it is to be a parent and love another person with abject affection. Felicity Huffman, in the title role, gives one of the most inspired performances of the decade, and really delves into the world of transsexuality, as well as educates through example. Bree is a strong, suitable character for those who want guidance. Besides this being a prime example of an iconoclastic LGBTQ character, Bree is also a remarkably flawed and interesting character. The entire film works as both an intense voyage into the relationship between an estranged father and son, as well as a coming of age story, as well as a story about the surgery of a transsexual. It's a rich story that explores a lot of great themes and has a diverse roster of characters, so it's enjoyable as well as introspective, which makes it a great film regardless.
Spencer S.
Super Reviewer
½
Lovely movie. Huffman was awesome as the sensitive Bree. Interesting how they chose a woman for the part instead of a man, but it totally worked. I like how the emphasis isn't on the transgender theme, but in growing as a person and connecting with other people.
Felicity Huffman absolutely knocked my socks off!
Randy Tippy
Super Reviewer
Transamerica Quotes
| | |
| --- | --- |
| Toby: | I'm out of cigarettes. |
| Bree: | Quel dommage. |
| Toby: | What's quel dommage mean? |
| Bree: | It means you're not getting any cigarettes. |
| | |
| --- | --- |
| Toby: | Beauty is relative. |
| Bree: | Not my relatives. |