Transformers: Dark of the Moon
(2011)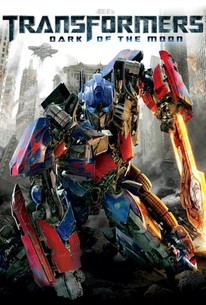 TOMATOMETER
AUDIENCE SCORE
Critic Consensus: Its special effects -- and 3D shots -- are undeniably impressive, but they aren't enough to fill up its loud, bloated running time, or mask its thin, indifferent script.
Transformers: Dark of the Moon Videos
Transformers: Dark of the Moon Photos
Movie Info
Shia LaBeouf returns as Sam Witwicky in Transformers: Dark of the Moon. When a mysterious event from Earth's past erupts into the present day it threatens to bring a war to Earth so big that the Transformers alone will not be able to save us. -- (C) Paramount
News & Interviews for Transformers: Dark of the Moon
Critic Reviews for Transformers: Dark of the Moon
Audience Reviews for Transformers: Dark of the Moon
½
As you guys may know Transformers is one of my top 5 favorite movies, the action was great, the visuals fantastic, plot great, everything was flawless, so when I heard they were making another movie i got hyped as hell. It Blew, it seemed like more of a parody of the first than a sequel, so when they announced another sequel I wasn't completely interested but when i saw the trailer, MIND BLOWN. So naturally I got hyped again, and today I finally saw the movie I named the number 1 movie to see this summer, and guess what it was awesome!!! I have to say this movie is the most gruesome thing ive ever watched, ill have to give away most of the plot because its impossible to write this and not talk about the plot. One warning about this movie NOBODY GOOD AND BAD DIES A SIMPLE DEATH. This movie is emotionally powerful if you have seen the other two movies, mainly because they kill off 5 main characters, not simply, BRUTALLY. You know Ironhide from the first two movies that has cannon hands, killed by a Autobot Betrayer (Voiced by Leonard Nimoy) and he F*CKING DISENTIGRATES. The movie is just way to hard to describe without giving anything away but i have to say it is a spectacle and a worthy successor to the first movie, the only problem i have with the movie is that the film has way to many unnessecary scenes and dragged the movie on a little to long, but the apocalyptic scenery and the ending hour of fighting is fantastic to watch.
Michael Edwards
Super Reviewer
Finally got round to seeing it at the cinema in 3D. I really do not understand the criticism of this film. Yes it's long, has a slowish build up and no Megan Fox. The new girl appears out of no where? However once the action does start it, doesn't stop and it doesn't feel as long as it is. The SFX have gone up a notch again and the level of detail in the slo-mo shots mid action are amazing! All this with live performers in the mix to. This film is a pure blast, fun, entertaining and a work of technical excellence. It's better than the 2nd and on par with the first. If you want to be entertained and have your eyes dazzled see this. What the critics thought they were going to see I don't know?
So here we are again and right from the start with the intro of Shockwave I was disappointed yet not particularly surprised. Moving on we are introduced to a talking LaserBeak and a small troll like Autobot called Brains! oh my heart sinks and we haven't even begun. OK well on the plus side there is some nice humour in this new installment from various characters that did make me smile. Turturro as always is quality with his snappy dialog where as Malkovich adds an impressive little performance I didn't really see coming, small but sweet. Ken Jeong is an uprising star in my books and his performances have all been good so far, in his short role here he doesn't disappoint with a cracking little show. Unfortunately we still have to sit through the annoying screaming and twitching of LaBeouf whose participation in these films has damaged his credibility big time. As for new entry Rosie Huntington-Whiteley...well I've not seen a more horrifically bad performance in sometime, the girl is beautiful, she can pout like no ones business and I'm sure she models well but acting is clearly a step too far and should never be tried again. Its actually fitting she's in this film as to be honest this glitzy overblown mess fits her pretty princess attitude perfectly. Shots of Whiteley up against super cars? check, anyone notice she's still wearing her posh high heels during the finale showdown!. Anyone actually asked themselves how a geek like LaBeouf's character somehow manages to get these girls in these films!? talk about fantasy! Basically the inclusion of bling actors such as Gibson pretty much sum up the whole franchise. The film gains a tad more respect with the continued talents of Weaving and Cullen. Added to the gang are Nimoy and Remar, Nimoy of course being experienced in voicing Gavaltron in the animated and better Transformer movie of 86. Credit where credits due you must applaud the CGI effects, they are very impressive and look good as they screech around highways with multiple explosions going off around them. It looks faultless and along with Bays pretty direction and fetish of the military, explosions and slow motion against sunsets its a picture for sure. As before we still have the same issue as the previous films where its virtually impossible to tell what the hell is going on when the bots fight. You still can't distinguish between Autobots or Decepticons accept for their eye colour with most Transformer characters just coming across as large shiny whirring clicking statues of CGI metal. The rather long finale highlights this problem by adding massive amounts of building carnage and debris into the mix making it completely impossible to make out what on earth is going on, its just insane! I still can't stand the recreation of classic designs for the new film. The new creations they come up with for new Transformers are terrible and why do all Decepticons look like monsters, insects or wild animals? did I even see a 'Predator' type Decepticon with dreads at one point? The film is overly long and HUGELY cliched (every cliche in the book). Much of the film feels like a music video or adverts for super cars as Bay tries to evoke emotion but fails miserably by adding rock music over sequences of supposed trauma and horror, plus the whole thing is sooo God Bless America. There are also so many poor sequences with questions such as how did Sam kill Starscream exactly? what was that gauntlet thing he had? how did the Sam and the others manage to get out of the skyscraper that was practically destroyed and virtually at a 90 degree angle? they just walked out of the doors it seems with no worries? Where does Optimus and the main Autobots vanish too for most of the finale battle? and who was that crappy balding professor looking Autobot with the British accent that got executed!!? just faceless characters for killing...poor film making. People say this is the better of the trilogy, I can't see it. Its a bit darker as we see people killed in this film plus Optimus being brutal at the very end but for me this is just as bad as the previous two making it hard to try and decide which is the better film, is there a better film? (Can't believe Optimus lets Cybertron get destroyed!! as if!)
Phil Hubbs
Super Reviewer
Transformers: Dark of the Moon Quotes
| | |
| --- | --- |
| Soundwave: | [grabbing Carly] You're mine! |
| Soundwave: | You're mine! |
| | |
| --- | --- |
| Laserbeak: | Pleasure working with you. |
| | |
| --- | --- |
| Carly Miller: | Oh my God. What's Sentinel doing here? |
| Dylan: | Watch. They're spreading hundreds of pillars around the globe right now. In just a few hours, they're going to launch them into orbit and bring Cybertron into our atmosphere. The red one there controls the rest. He triggers that, it starts the whole thing. |
| | |
| --- | --- |
| Sam Witwicky: | Optimus? |
| Optimus Prime: | What your leaders say is true. This was all my fault. I told them whom to trust. I was so wrong. |
| Sam Witwicky: | That doesn't make it your fault. It just makes you human for a change. |
| Optimus Prime: | Remember this. You may lose your faith in us, but never in yourselves. |