Transit
(2012)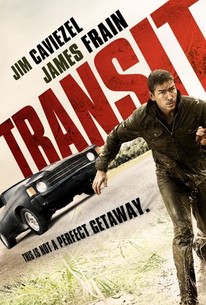 Movie Info
The family camping trip was meant to reunite the Sidwell family. It's not. After being imprisoned for tax evasion, Nate Sidwell has lost the respect of his wife and his children. Then when he suspects their truck is being followed, he gets arrested for aggressive driving and has to spend a night in jail. Just when it seems the trip cannot get any worse, the Sidwells discover $4,000,000 cash in their luggage rack, and that Nate was wrong. They aren't being followed. They're being hunted - by four ruthless killers, who will stop at nothing to retrieve their millions. -- (C) After Dark Films
Critic Reviews for Transit
Audience Reviews for Transit
Transit at first sight looks like just another dumb action movie which is it. Though Transit makes up for it dumb elements in excitement despite it's low budget. Transit follows a family on a road trip is stalked by criminals who stashed stolen money in their car. The plot itself is not all that bad and is surprisingly strong enough to maintain your interest throughout it duration. Unfortunately the plot is plague by dumb characters who are do idiotic things. I hated the father most of all who kept putting his family in constant danger. You'll wonder why the father would continue with his plans to go camping after his wife was attacked by a gang of criminals in her hotel room. The criminals themselves are no better, I find it hard to believe these criminals can still four million from a armored car yet can't retrieve their cash they stashed in a family bag. The characters are mostly one dimensional. You have criminals who want their money and a criminal who is trying to reconnect with his family that's it. Plus it ends abruptly which means you will either satisfy or empty with the whole film. The film strongest points is excitement which this does deliver on. It has some great car chases and some solid action scenes which are filmed terrifically. The film never lets down in building momentum in every scene possible keeping you anxious to see what happens next. The director here clearly was trying to be artistic which is why you'll have to prepare yourself for the many close up this film which will make you want to push the screen back. The acting is solid it cast members. Jim Caviezel was solid in the lead and it goes without saying James Frain stole the show here as an insane criminal. One cast member who did feel out of place was Sterling Knight. I never once felt convince by his performance and looks fitting for a sitcom than a low budget action movie. Transit is a dumb action that delivers on thrills despite it characters lack of intelligence. It is overall a brainless film, but is an enjoyable thrill ride through out.
Caesar Mendez
Super Reviewer
½
An explosive and heart-pounding edge of your seat action-packed thriller. A stylish, tense, thrilling and gripping flick with a great cast, decent script and solid direction. An adreneline-charged thrill-ride that keeps you going until the very end. It`s fast-paced and frequently exciting from start to finish. It`s The Hitcher meets Cape Fear. Jim Caviezel and James Frain give strong and intense performances. A hard-boiled and exhilerating action flick. It`s wickedly entertaining and extreamly tense at every turn filled with bullets, mayham, suspense and full-throttle terror.
This is not a perfect getaway. Good Movie. The movie really doesn't let you off your seat, it's exciting and even though it has its predictable parts its really a roller coaster. There was fantastic acting from everyone involved and the plot simple yet exciting. It's a movie you watch only once but its a pretty good one. Go see it! The family camping trip was meant to reunite the Sidwell family. It's not. After being imprisoned for tax evasion, Nate Sidwell has lost the respect of his wife and his children. Then when he suspects their truck is being followed, he gets arrested for aggressive driving and has to spend a night in jail. Just when it seems the trip cannot get any worse, the Sidwells discover $4,000,000 cash in their luggage rack, and that Nate was wrong. They aren't being followed. They're being hunted - by four ruthless killers, who will stop at nothing to retrieve their millions.
Transit Quotes
There are no approved quotes yet for this movie.