Transmorphers
(2007)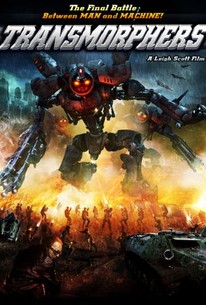 AUDIENCE SCORE
Critic Consensus: No consensus yet.
Movie Info
One of the last remaining human rebellions left on Earth makes their final move against a deadly robot force in the sci-fi action flick Transmorphers. Asylum Entertainment, the same company behind such other direct-to-DVD rip-offs as Snakes on a Train and The Da Vinci Treasure, brings home to audiences the ultimate fight between man and machine that their $1.98 budget can afford. Three hundred years after a race of transmorphing alien robots took over the planet Earth and decimated it, a team of rebels cryogenically unfreezes a hero in hopes of giving them the edge in the fight for all humanity
Critic Reviews for Transmorphers
Audience Reviews for Transmorphers
½
"Transformers" was always going to be a big movie in terms of commercial sucess due to the popularity of the toys, and you can trust the studio that made this; "The Asylum" will do everything they can to cash in on it. They suceeded as people are actually buying this ridiculously silly movie. Count on them to use hindsight to see how sucessful there film is in terms of money but not genuinely good film making. But Transmorphers was different to their other films like "Monster" (Cloverfield rip off) and "Snakes on a Train" (Snakes on a Plane rip off). The Asylum actually try to make a good movie in this case, of course they do not succeed this is not a good movie. Its not entirely bad either because their is more character development then these other Asylum examples, you'll find you care what happens to these people. Nevertheless Transmorphers's effects are good awful. Some of the worst CGI usage i've ever seen in my life. Its even Worse than the most terrible graphics you'd see on an old used video game. My verdict is that although The Asylum tries to please its audience this time round by actually trying to make something the audience would be expecting, like its inspirational "Transformers". The film makers malfunction intensely.
Directors Cat
Super Reviewer
Asylum productions should be spanked. They had a lot of nerve to try and cash in on the Transformers craze. Watch yourself before you spend any cash on this turkey. You do not get to see any considerable robot action or effects in this lame-o-rama Transformers look-alike on front cover only.
Lafe Fredbjornson
Super Reviewer
½
Horrible special effects, hybrid sci-fi plot [cross between Transformers, The Matrix, and Terminator]. Actually good in some ways. With a bigger budget and some cast substitutions it could have been a great sci-fi film.
Chosen 718
Super Reviewer
Transmorphers Quotes
There are no approved quotes yet for this movie.