The Transporter
(2002)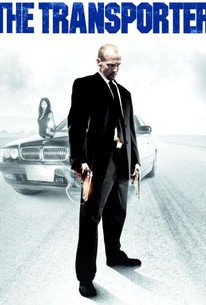 Movie Info
An outlaw finds his life becoming all the more dangerous when he turns against a gang of criminals in this action drama. Frank Martin (Jason Statham) is a former Special Forces officer who lives on the French Mediterranean and has a lucrative second career as a underworld courier for hire. Martin will deliver anything anywhere, but he has three iron-clad rules - once the plan is in motion it cannot be changed, neither he nor his customers are to ever use their real names, and under no circumstances will he open the package. Martin is hired to make a delivery to a wealthy but unscrupulous American known as Wall Street (Matt Schulze), but after taking possession of the package he realizes that whatever is inside happens to be alive. Breaking his own rule, Martin opens the bag to discover a beautiful Asian woman, Lai (Shu Qi), who is bound and gagged. Lai briefly escapes, but Martin captures her, and delivers her to Wall Street as promised. However, after being given a parcel to deliver by Wall Street, Martin finds out what Wall Street is up to - in partnership with Lai's father Mr. Kwai (Ric Young), Wall Street is part of a scheme to smuggle Asian illegal aliens into France. Martin's conscience gets the better of him, and he sets out to rescue Lai and put Wall Street and Mr. Kwai out of business; however, as if this wasn't enough of a challenge, Martin discovers a French detective, Tarconi (Francois Berleand) has gotten wind of his illegal business. The Transporter was the first English-language feature for Hong Kong-based director Corey Yuen, who along with directing a number of HK action flicks designed fight choreography for several American films. ~ Mark Deming, Rovi
News & Interviews for The Transporter
Critic Reviews for The Transporter
Audience Reviews for The Transporter
Written and produced by iconic French action director Luc Besson, this was his second attempt to bring Asian action to the mainstream in Europe (and kinda crack into the US on a personal level). Yes Asian action was no secret back then (although it wasn't huge outside of Asia) but this was Asian action with French flair. The story is pretty simple. Ex-military man Frank Martin (Jason Statham) is a transporter, a transporter of anything no questions asked. He has three rules; no names, no alterations to the deal, and don't look inside the package. Whilst delivering a package he notices it moving. Eventually, after much deep thought, he opens the package and discovers a bound and gagged female. He is somewhat shocked but carries on with his delivery. Upon delivering the package to the client he is offered another job. Midway through this job the package explodes and almost kills him. The client, a Mr. Bettencourt (Matt Schulze) tricked him and tried to whack him because Martin broke the rules, he opened the package (kinda understandable actually). This obviously forces Martin to return to Bettencourt's estate and take vengeance by killing some of his men and stealing a car. Alas the car has the bound and gagged female inside. Martin must now protect himself and the woman who has also revealed that Bettencourt is trafficking people, so there's that too. Now, this movie was never very original, not by a long shot. The fact that Besson was involved helped as he was seen as more of a cult director at the time. The Asian action blend and influence from director Corey Yuen was seen as fresh at the time. And Statham drew intrigue because here was an action man who wasn't your standard handsome A-list movie star with big muscles; he was British and looked and sounded more like a villain...with muscles. With that being said there is enough to like here for sure. The first half of this movie is easily the better half as we are given a very likeable action thriller that is clearly very Besson-esque. We meet Martin who is a disciplined, calm and collected, suit-wearing professional who only speaks when necessary. He drives a souped-up, high spec, black BMW which he drives like a badass, but again only when required. The plot is basic but engaging and the action is swift and brutal but believable. It is only once Martin inadvertently saves the girl that things start to go downhill with silliness. For a start it takes an age before we actually find out why this female (Lai played by Shu Qi) has been kidnapped, which is stupid. When she is picked up by Martin she has no real idea who he is and if he's trustworthy, yet she never really tries to escape. Hell, even when Martin takes her back to his place she [b]still[/b] doesn't try to escape! I mean, this guy could be planning to rape and kill her, but she ends up totally trusting him, covering for him when the police show up, and even making him food! She basically gets all cozy with Martin without even knowing him or what his plans are and considering her situation, it's weird. Things get even more out of hand when the bad guys show up in the middle of the day armed to the teeth with guns and rocket launchers and destroy Martin's residence. All this in clear view of anyone, but nothing happens and no police are called. Luckily Martin has yet another luxurious residence not too far away (of course) so it's all good. And the female he rescued (who is kinda his captive now) offers sex to make up for all the trouble she's caused, because of course she does. The really odd thing though is Lai trusts and helps Martin so much throughout the movie, but when it comes to a point when Martin really does need her verbal assistance with a confrontation between the police and the bad guys, she doesn't say a word! I must also point out the quite terrible musical score throughout this picture. An odd blend of your typical action themes with soft orchestral moments which feel completely out of place for the most part. It really is quite weird because at times it makes the movie feel like a low budget production, like it's been tacked on because they had nothing else to use. Anyone who knows Luc Besson will know this movie and just what to expect. We all know Besson has a hitman/hitwoman fetish and since his 1990 offering 'Nikita' has essentially done the same thing time and time again switching between male and female leads. Although 'The Transporter' is nowhere near as solid in overall quality as his earlier hitman flicks (the other being 'Leon' in 1994), this first offering does still have plenty to enjoy. It's just a shame that the movie slowly degenerates into a stupid mess which was eventually doubled down on with the even stupider sequels.
Phil Hubbs
Super Reviewer
[img]http://images.rottentomatoes.com/images/user/icons/icon14.gif[/img] Jason Statham is a bored and retired army guy, who get's thrills out of transporting criminals and illegal substances all around France, whilst avoiding the law by any means necessary to him. It's a pretty good set up and a great opportunity for action. The Transporter is produced by Luc Besson, who sometimes directs films but mostly chooses to produce either throwaway action B movies like this or forgettable French dramas. Most of which are considered to be mediocre, however The Transporter like all the other Besson action flicks is adequately written and filled with plot holes, what makes it special, is Statham's unbelievably energetic performance. There are absolutely loads of moments where Statham fist fights, strips, drives cars whilst kicking ass, and brawls whilst covered in motor oil. It sounds ridiculous, but it's what makes this movie so fun. It takes a great lead performance, slick action and charm to make a movie like this work, and The Transporter is one of the few Besson movies that has that. In my opinion "Taken" is the best where as Transporter 1 is infinitely inferior but it holds as a cheesy, ridiculous action flick. If like me you glanced at the poster expecting all the action stereotypes you'll get just that. It's enjoyable enough, but not Besson or in equal measure, Statham's, best.
Directors Cat
Super Reviewer
The Transporter from Cory Yuen and Louis Leterrier goes hard on the action and easy everywhere else.
Roughly 90 minutes is all this film needs to complete its story. The first 10 minutes define the title with great success, before slowing drifting away from its concept. The plot is simple, straight to the point, and moves with a brisk pace.
The action is stylized and is in high abundance. The bulk of the fun is comprised of hand to hand combat, along with a nice helping of guns and other melee weapons. The driving aspect dissolves by the halfway point as the film becomes more of an action adventure, rather than one about transporting.
Jason Statham is calm and cool, as his character is written. Shu Qi delivers a watchable performance as well. Matt Schulze is nothing more than a cliched villain.
The Transporter doesn't offer anything out of the ordinary; however, it satisfies as a quick watch.