Transporter 2
(2005)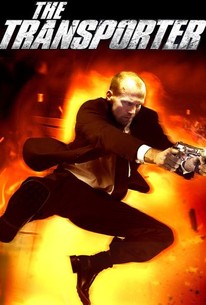 Movie Info
Driver and muscle for hire Frank Martin returns in this sequel to the 2002 box-office hit. Frank Martin (Jason Statham) is a former special-forces officer who will transport anything anywhere for a price, and his latest assignment is acting as chauffeur for Jack Billings (Hunter Clary), the young son of politician Jefferson Billings (Matthew Modine), who has garnered no small amount of controversy for his aggressive efforts to stamp out the trade in illegal drugs. One day, Frank is to take Jack to the doctor for a checkup while his mother, Audrey (Amber Valletta), sets up a birthday party for the tyke. However, Jack's doctor is not who he appears to be -- he's actually Dimitri (Jason Flemyng), a Russian agent well versed in viruses who works with criminal kingpin Gianni (Alessandro Gassman). After a long and hard-fought chase with Frank, the bad guys get ahold of little Jack and hold him for ransom. The parents comply with their monetary demands and soon have their son back at home -- but little do they know that the boy has secretly been injected with a deadly and easily spread virus, which the terrorists hope to spread to the boy's powerful father and other politicians whom Jefferson will soon be addressing at a public event. When Frank learns what has happened to young Jack, he sets out to find the culprits -- and the antidote that will save the boy and all others who have been exposed to the virus from dying a painful death -- though his foes have stacked the deck so that it looks as if Frank has been complicit in the crime.
News & Interviews for Transporter 2
Critic Reviews for Transporter 2
Audience Reviews for Transporter 2
Much like his 1998 action car flick 'Taxi' Luc Besson found success with this hitman/car action flick which was somewhat slick but also rather stupid (accept 'Taxi' had no hitman). So naturally just like the Marseille set car romp, this hitman thriller also wound up with a sequel which amped up what came before it ('Taxi' actually went on to have 4 sequels). So this second entry starts off in exactly the same way as the first movie. Frank Martin (Jason Statham) is seating peacefully in his car waiting for the precise time to start his latest mission. The only difference here is Martin is now sitting in a black Audi A8 (probably for money/sponsorship reasons). Cometh the hour cometh the man, accept this time Martin is stopped in his tracks by a hot female dressed in a skimpy schoolgirl outfit (mmmmm). Turns out Martin is just about to be carjacked by a gang of African American males...and their white female accomplice? So long story short, Martin obviously beats the shit outta these guys and calmly carries on with his latest mission. This one scene pretty much tells you everything you need to know about this new entry. The action will be more exuberant and heavy hitting, whilst inexplicably strewn with females in ridiculously skimpy outfits for no real reason. There was absolutely no reason whatsoever to have that hot chick in the schoolgirl outfit other than giving the male audience (and director presumably) a boner. Cos why would this gang need her? Do they really need her to carjack one man? (there were 4 of them). Look I'm no PC prude believe me, but I'm just pointing out the obvious in this movie (and it gets worse). Indeed the characters of the movie do get more ridiculous. The main bad guy Chellini is played by Italian actor Alessandro Gassman, and he does he solid job. But is it just me or does this guy look identical to Benicio del Toro?? I just couldn't help but feel that maybe, just maybe, they wanted del Toro and couldn't get him, so they hired a lookalike. But then we have the real coup de grâce, the villainess Lola played by Kate Nauta. Now this femme fatale is beautiful and there's nothing wrong with highlighting that don't get wrong; but she literally spends the entire film's runtime in her underwear I kid you not. And boy does the director get the cameraman to make the most of her ass, lips, legs, and feet in heels from every angle possible. It gets to a point where you think you're watching one of those soft porn 'girls n guns' type videos where sexy girls in bikinis simply fire guns (so I've heard, ahem!). As I've said the action is ramped up in this sequel, ramped up to 11! Naturally Martin is an invincible superman who cannot be beaten or injured (like all Statham flicks). So there's no real tension anywhere to be found. This time he manages to spot a bomb on the underneath of his Audi via a puddle. He then proceeds to knock it off via launching the car into midair whilst flipping it so the underside strikes a crane which tears off the bomb. Oh and Lola shoots at a helicopter with her machine gun which causes it to explode. Yeah, that actually happens. But one of the most idiotic parts of the movie is a simple plot device. That being, the really pathetic way in which they bring a character from the first movie back for this second movie...and it's pointless. Yep in this movie Inspector Tarconi (François Berlà (C)and) is back because he's come to the US to visit Frank for his holiday. Really? There is absolutely no reason for this character to come back in this sequel other than for face recognition. He serves no purpose to the movies continuity because of the different setting and he serves no real purpose to the plot. Take him out and replace him with someone else or not a tall. I mean, good for the actor, not wanting to deny him work but its such a typical lame move in so many movies. I honestly didn't like this movie much because it bears no proper resemblance to the original concept in the first movie which was also lost very quickly. Its like Besson had a reasonably decent idea for a semi-serious gritty action thriller...and proceeded to ruin it with outlandish ideas. And those outlandish ideas just got more and more outlandish to the point of farcical. The inspiration for this franchise is pretty clear with the action, cars, and sexy women, but the overall execution is sloppy. The final action sequence with the jet showcases that sloppiness perfectly with the shocking CGI. It all ends up looking like a videogame cut-sequence, funnily enough much like many of Statham's action movies. Lots of style (and underwear) but very little substance.
Phil Hubbs
Super Reviewer
½
[img]http://images.rottentomatoes.com/images/user/icons/icon14.gif[/img] Transporter 2 does everything that The Transporter did but better. However the original wasn't worth writing home about anyhow so the compliment is minimal. It split opinions, this sequel has caused the same debate. The problem at heart with The Transporter movies is that an opinion on them depends on patience and sympathy towards non sensical, over the top, illogical exploitation movies. The first film worked within an inch of it's teeth, simply, because Jason Statham was in it. Genuinely he's just a guy who's good at what he does. He was the perfect man for the lead in this franchise. If there is anyone who can play a post hero man on the edge, I would point him out of the crowd. On the technical side of things, this is loads more slicker than the original. It's more action packed (that's saying something), has better acting, and producer Luc Besson actually puts a plot into the mix. But the cartoonish and lightfooted second unit directing and illogical plot points genuinely test your patience. The first film did the same but not to this extent. There's only so much you can get away with. Luc Besson has managed to escape narrative logic on many occassions eg. Taken, District 13. Thankfully, he does it again here. The film allows you to relax into it's absurdities before going all out fantastical on you. It's also a bonus that the direction is superior to it's predecessor due to the addition of visual flare. It's definitely worth pointing also that supporting villian Kate Nauta is brilliant. Overall, it's better constructed than the first one and succeeds overall as light hearted entertainment. At least for me anyway, due in most part to my belief in Statham, and that he fits into the role like a jigsaw. However if anyone else played the transporter character, it would never have worked the first time. I've unashamedly got a bit of a soft spot for the absurdidness fun of this franchise, but that's more than I can say for a number of people.
Directors Cat
Super Reviewer
JASONSTATHAMDRIVES80MPH,FLIPSHISCARINTHEAIRWHILEHITTINGTHEBOMBATTACHEDTOHISCARTOBLOWUPINSMITHERINES. yup, that's the movie
Transporter 2 Quotes
There are no approved quotes yet for this movie.