Transsiberian
(2008)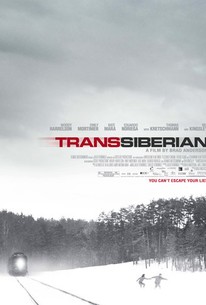 TOMATOMETER
AUDIENCE SCORE
Critic Consensus: Traditional in form yet effective in execution, this taut thriller updates the "danger on a train" scenario with atmospheric sense.
Movie Info
Set on the legendary express train as it travels from China to Moscow, follows an American couple who board the train and make the acquaintance of a Russian police inspector on the trail of the killers of a drug dealer. The couple soon find themselves embroiled in a murderous plot with no escape.
Critic Reviews for Transsiberian
Audience Reviews for Transsiberian
A very effective Hitchcockian thriller that starts off as a modest drama, taking a good time to develop its characters in a careful way, and then starts unexpectedly to become suffocatingly tense as the characters find themselves trapped more and more in an unbearable situation.
Carlos Magalhães
Super Reviewer
Grinko: In Russia, we have expression. "With lies, you may go ahead in the world, but you may never go back." Do you understand this, Jessie?  "You can't escape your lies." Transsiberian is a great thriller from Brad Anderson. He may be most remembered for The Machinist when all is said and done, but this may be his best film. Elements of some Hitchcock thrillers come into play in this railway thriller. The film starts out slow, building up with character development and the start of a new friendship. We don't really have a sense of what's going to happen next, but when something does happen, the film builds in intensity and tension. Everything Anderson was trying to accomplish with a slow start ends up working perfectly as the story comes full circle. A married couple, Ray and Jesse, are traveling on the Trans-Siberian Railway when they meet another couple. The four hit it off and become vacation buddies. When Jesse is left at one of the stops the other three get off to wait for him. That's when everything changes and the film becomes a thriller. When Ray and Jesse are reunited on the train, a new character comes into their lives. He is Grinko, a Russian detective.  Besides beautiful landscape and a great thriller setting, Transsiberian is held up high by a great cast. Emily Mortimer and Ben Kingsley are the easy standouts, but Woody Harrelson, Kate Mara, and Eduardo Noriega give pretty good performances themselves. The two couples becoming friends sort of feels like the couples from A Perfect Getaway. The actors play their characters beautifully and really make it hard to get a sense of what will happen next.  The movie doesn't really have anything holding it back. There's a good director, with a good cast and a good story. Add a nice score and beautiful cinematography into the equation and you're left with a highly involving and enjoyable film. If the movie has a problem, it's in how it is wrapped up. It's all a bit too optimistic in my opinion, but it doesn't take away from just how well made and executed the movie is. 
Melvin White
Super Reviewer
You can't escape your lies. Good Film! This film is great watch with a solid narrative structure and with honest performances from all actors involved, hopefully you'll find Transsiberian a worthwhile watch as I did. Americans abroad. Roy and Jessie finished a volunteer stint in China. He loves trains, so they go home via the Trans-Siberia Express. There are strains in the relationship, including her past. They meet Carlos, a Spaniard, traveling with Abby, a young American. Carlos keeps close to Jessie, and when Roy is left behind and waits a day for the next train so he can catch up, Jessie and Carlos take a trip into the dead of winter to photograph a ruined church. Carlos may be running drugs, so, later, when Roy catches up and introduces Jessie to his new pal, an English speaking Russian narcotics detective, he's the last person Jessie wants to see. Will the Siberian desolation be their undoing?
Transsiberian Quotes
| | |
| --- | --- |
| Roy: | Yeah, a John Deer power mower! |
| | |
| --- | --- |
| Grinko: | In Russia, we have expression. "With lies, you may go ahead in the world, but you may never go back." Do you understand this, Jessie? |