Transylvania
(2006)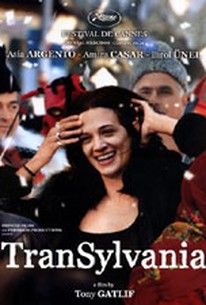 Movie Info
An Italian woman intent on tracking down the Romany musician who impregnated her becomes lost in a world of Gypsies in director Tony Gatlif's meditative road drama. Convinced that her one-time lover Milan (Marco Castoldi) has been deported by French authorities and determined to let him know about his unborn child, Zingarina (Asia Argento), travels to Romania in the company of her motherly friend Marie (Amira Casar) in hopes of seeking out the elusive musician. Though Zingarina does eventually track Milan to a remote village festival, the rejection she is faced with soon drives the troubled mother-to-be to ditch her friend Marie during the trip back to France. Now wandering the Romanian countryside as her future grows ever more bleak, Zingarina enters into a tentative romance with itinerant trader Tchangalo (Birol Ünel), whose gruff exterior masks a sensual inner beauty. ~ Jason Buchanan, Rovi
Critic Reviews for Transylvania
Audience Reviews for Transylvania
½
Dancing, singing and music are a huge part of this film. Almost everybody either sings or dances in this film, and yet this is not a musical. And even though this isn't exactly a happy, cheery film, largely thanks to the music it is still very vibrant and full of life...no matter how gritty that life may be. Some say this film is supposed to be about gypsy persecution (there are a few scenes that hint at that) but, to me, it's more like a weird kind of road movie. Some also complain about it not being realistic, but as far as I know, the director never claimed it to be. In fact it is the exact opposite. In my opinion, it is about Zingarina's escape from reality in order to rediscover herself. Think Alice in Wonderland or the Wizard of Oz, only for adults.
vieras esine
Super Reviewer
½
A movie called Transylvania that is not about vampires! What it is, is a poignant film about a pregnant woman, magnificently portrayed by Asia Argento, who travels to Romania with a friend to find her lover, who left her in France. Once brutally rejected, she escapes her friend and embraces a gypsy lifestyle until meeting up with another lost soul. A powerful, raw, emotional journey of a woman letting go to find the happiness she seeks.
nefnie lee
Super Reviewer
½
The only reason I sought out this film was due to it starring Birol Ünel, who I fell completely in love with in 2004's Head-On. And while that fact remains Transylvania's most redeeming factor for me, I'm still glad to have seen it as its a pretty good film on its own. The central character of the film is Zingarina (played by Asia Argento, daughter of legendary horror director Dario Argento), a French woman who travels to Transylvania to track down Milan, her boyfriend who she thought had been deported suddenly. I've never seen Asia in a role of any real substance before, so this was a pleasant surprise, as she does an excellent job. She plays the woman driven to the brink by love as being racked with a controlled chaos, which is well conveyed in the tragic defiance that seems to emit naturally from her beautiful face. I'm pretty sure I could watch Birol Ünel just standing in a field smoking a cigarette for two hours and I'd love it, but he's also good here. Unfortunately, the film loses any sense of focus from about half-way through. While this is somewhat appropriate due to the fact that the two main characters clearly don't follow any set life path, it is still the film's chief flaw. However, this is somewhat redeemed by the fact that, despite this, the film continues to breed some great moments and remains brimming with beautiful imagery. The whole thing is also continually shrouded in mysticism and Transylvanian Gypsy culture and that makes it always an interesting watch, at the very least. Despite its flaws, this is a film worth checking out.
Christopher Mercer
Super Reviewer
Transylvania Quotes
There are no approved quotes yet for this movie.