Transylvania 6-5000
(1985)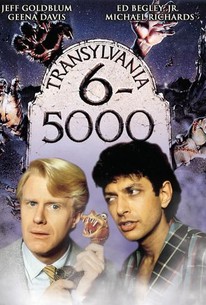 Transylvania 6-5000 Photos
Movie Info
In a plot that combines Mary Shelley's mad Dr. Frankenstein and Bram Stoker's Count Dracula, two yellow journalism reporters, Jack and Gil (Jeff Goldblum and Ed Begley, Jr.) head off to a castle in Transylvania. The intrepid duo is out to hunt down a story that proves Frankenstein's "monster" is still alive and sparking. What they find is an appropriately demented Dr. Malavaqua and his monstrous creations. Tame stuff for the hardcore groupie, this intended spoof falls a tad short of funny.
Critic Reviews for Transylvania 6-5000
Audience Reviews for Transylvania 6-5000
Transylvania 6-5000 is a sort of comedic spoof of the classic monsters. What you should know about it going in, is that it is beyond stupid. Its so far beyond stupid, that it really makes you think about how someone could come up with something like this. The movie uses its ridiculousness to its advantage in spots, but most of the time, the jokes just don't work. It isn't a funny movie, and that's where the movie ultimately fails.  Two reporters are sent to Transylvania to find Frankenstein for a story. If they don't uncover a story, they will be fired. Once they arrive in Transylvania, they quickly meet the mayor, who just happens to own the hotel they are staying in. Quickly, one of the reporters begins to start believing in the monsters, while the other just wants a beautiful woman he met there. Things do become increasingly strange though, as a police inspector and the mayor act very weird about a certain doctor who has had his license revoked. There are some things to like about the film. For one, Geena Davis's chest and legs. Two, Jeff Goldblum. Three, the movie has a certain appeal to it that I can't describe. It feels like I should have been having more fun then I was. I guess that is a compliment. Other than those though, the movie was just a stupid piece throwaway entertainment. Ultimately, I've had much worse times watching movies, so I won't be too hard on it.
Melvin White
Super Reviewer
Yes the title of this film is a silly twist on the classic Glen Miller song and they sure make the most of that pun throughout the film sheesh!. I'm not quite sure what to think of this really, straight away its clear this is a low budget silly film which isn't suppose to be taken seriously and REALLY looks like its trying to be another 'Young Frankenstein'. Unfortunately it fails pretty badly with a serious lack of laughs and a huge amount of embarrassingly poor visual gags and prat falls. Looking back now it looks hella shit of course haha really low budget with no special effects and hardly any set work either. The only thing going for it is the genuine use of Yugoslavian location work, they went all that way to make this?!!. I'm still not so sure what on earth it was all about really, just a couple reporters looking for classic monsters in modern day (at the time) Transylvania. They manage to find all manner of weird locals and possible ghouls but all is not what it seems, so it seems. The whole thing is really pretty pointless to be honest, not funny, not very atmospheric and not exciting or engaging. The only thing is the impressive cast that weren't back then of course. It really does feel like a poor mans 'Young Frankenstein' with Joseph Bologna doing his best 'Dr Fronk-en-steen' type impression, Michael Richards AND John Byner doing their best 'Igor' type impressions, Jeff Goldblum didn't need to be here at all and neither did Jeff Jones. On the plus side Geena Davis looks young and hot as the nymphomaniac vampire, best thing in the film!. The films poster is much more creepy, kooky and fun looking, false advertising there, a spoof which isn't funny, hmmm not good that. Bit of a throw away trashy 'horror comedy' that I thought might be an old forgotten gem...but it isn't.
Phil Hubbs
Super Reviewer
Transylvania 6-5000 is another in a long line of fun and harmless 80's horror comedies that don't have an enormous fan base, but those who've seen them love them. I'm one of those people. I didn't catch it when I was a kid, but I have a feeling that if I had, I would have loved it just as much. It's a pretty nutty premise involving two cooky reporters sent to Transylvania in order to investigate the possible existence of Frankenstein's monster (who they constantly refer to incorrectly as just Frankenstein the entire time, but oh well). It winds up being an exercise in slapstick, one-liners and cliche'd story mechanics, but it's all incredible charming and funny in spite of itself. I would recommend a double feature of this and Ghost Fever if you want to see some bad but charming 80's horror spoofery.
Tim Salmons
Super Reviewer
Transylvania 6-5000 Quotes
There are no approved quotes yet for this movie.