Trapped
(1949)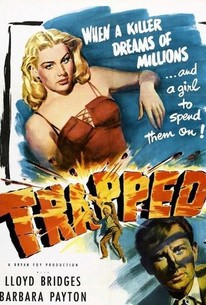 AUDIENCE SCORE
Critic Consensus: No consensus yet.
Movie Info
When nearly perfect counterfeit 20-dollar bills start turning up, the Treasury Department recognizes them as the work of Tris Stewart (Lloyd Bridges), a man already doing a long prison stretch. They offer Stewart a break on his sentence if he'll help them find out who got hold of his old plates, but he initially refuses. Some weeks later, while being transferred to another prison, Stewart escapes from custody -- it turns out that this is a set-up to free Stewart to search for the plates with a treasury agent keeping tabs on him; then he turns on the T-man as well, escaping for real. What Stewart doesn't know is that the agents expected and desired this move, believing that he would only go for the plates if he thought he could make some money from the bills and get out of the country with his girlfriend Laurie (Barbara Payton). They've got her apartment bugged, and one of their own men, Downey (John Hoyt), has been put in place as a customer at the nightclub where she works, quietly establishing himself as a man with some angles of his own and a yen to know her better. Stewart follows the trail to one of his ex-distributors, now in business for himself with the plates. But the man needs money, and Stewart thinks he can get it with help from Downey -- he doesn't like him trying to impress her, but does like it that he is a grifter with some money. They become partners, putting up Downey's cash to get the 250,000 dollars in counterfeit twenties, which Stewart will spend at face value where he and Laurie are going, in countries where they need U.S. currency and there are no treasury agents around to help identify counterfeit bills. Before the deal can be closed (and the arrest made), a new round of possible double-crosses starts between the hoods, and Downey's cover is suddenly blown by accident -- Stewart tries to kill him but is captured instead. Downey's superiors want to pull him out, but the agent thinks he can still salvage the operation if he can get to the plates before Laurie can talk to anyone. That leads to the denouement, an extended series of split-second plot developments with several lives at risk.
Critic Reviews for Trapped
All Critics (3) | Fresh (1) | Rotten (2) | DVD (2)
Every noirish development is immediately deflated by the reassurance that the Secret Service knows what's going on and is already poised to stop it.
Takes a lot of narrative chances by building the film around a cast of almost entirely unlikable and unscrupulous characters, and it pays off.
Richard Fleischer directs this minor so-so crime thriller in a semi-documentary style.
Audience Reviews for Trapped
½
Not the Best Movie in Black & White, Early Hollywood, and Low Budget. Made in 1949, I rented it because of Barbara Payton, who I thought was a early Hollywood Bombshell, after doing some research on her its said that she became a on the street hooker, a shame because she was a beautiful women. In this one she played the girlfriend of Lloyd Bridges who broke out of prison and the G-Men are after him. Again Early Hollywood , 2 1/2 Stars
Bruce Bruce
Super Reviewer
Trapped Quotes
There are no approved quotes yet for this movie.