Treachery
(2014)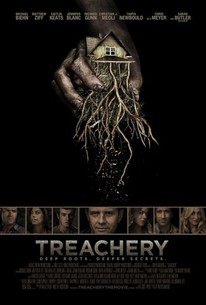 AUDIENCE SCORE
Critic Consensus: No consensus yet.
Movie Info
Henry (Michael Biehn) and his son, Nathan (Matthew Ziff), are forced to spend time together during the weekend of a their friend's wedding (Jennifer Blanc-Biehn and Richard Gunn). We see very early that their relationship is strained and their time with each other is uncomfortable, but when a storm moves in and the road washes out - secrets are revealed - and the situation heads toward peril. When Henry learns that Nathan plans to quit school and ask his girlfriend, Cecilia (Sarah Butler), to marry him, he expresses disapproval. Nathan isn't surprised, his dad has never approved of his relationship. But we soon learn that Henry's apprehension is based on something far more sinister than fatherly concern. Henry slept with Cecilia during a one night affair. He put the incident behind him, but Cecilia has other ideas and tells Henry that he's the one she wants to be with, and that she plans to end her relationship with Nathan so that the two of them can be together. Henry tries to humor her, in hopes of holding things together through the weekend, but then his girlfriend, Vanessa (Caitlin Keats), let's him in on a secret - she's figured out that Cecilia is pregnant - and Henry is now worried that the baby is his. Nathan is happy when he learns that Cecilia is having a baby, but the guilt proves to much for Cecilia and she confesses that, "There was another guy." Henry has to think quick on his feet as Nathan and Vanessa start putting pieces of the puzzle together, all while Cecilia is trying to convince him to leave his girlfriend and start a happy new life together with her and the new baby - which may or may not be his.
Critic Reviews for Treachery
There are no critic reviews yet for Treachery. Keep checking Rotten Tomatoes for updates!
Audience Reviews for Treachery
½
This drama written and directed by Travis Romero was nothing I would like to watch again! What a waste of time with this B grade movie in which there is more love affairs that anyone could handle. Starring Michael Biehn as Henry, Matthew Ziff as Nathan, Sarah Butler as Cecilia and Caitlin Keats as Vanessa, this movie will bring all possible combinations of who was sleeping with whom, and the father and the brother could be the same person... Sad excuse of a movie which could interest, probably, only the audience of unemployed beer drinkers, desperate housewives and few pensioners who run out of anything else to watch. If you like to watch bad actors starring in a mediocre directing film where an estranged father and son are re-united at a wedding party, and a thunderstorm traps them in a cabin, forcing the family to reveal deeper secrets... put this one on your list. I think that you'll regret, but you never know - there is always people who enjoy suffering!
Treachery Quotes
There are no approved quotes yet for this movie.