The Treasure of the Sierra Madre
(1948)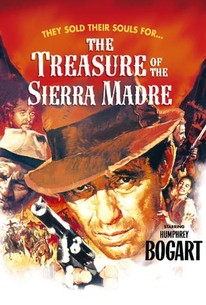 The Treasure of the Sierra Madre Photos
Movie Info
John Huston's 1948 treasure-hunt classic begins as drifter Fred C. Dobbs (Humphrey Bogart), down and out in Tampico, Mexico, impulsively spends his last bit of dough on a lottery ticket. Later on, Dobbs and fellow indigent Curtin (Tim Holt) seek shelter in a cheap flophouse and meet Howard (Walter Huston), a toothless, garrulous old coot who regales them with stories about prospecting for gold. Forcibly collecting their pay from their shifty boss, Dobbs and Curtin combine this money with Dobbs's unexpected windfall from a lottery ticket and, together with Howard, buy the tools for a prospecting expedition. Dobbs has pledged that anything they dig up will be split three ways, but Howard, who's heard that song before, doesn't quite swallow this. As the gold is mined and measured, Dobbs grows increasingly paranoid and distrustful, and the men gradually turn against each other on the way toward a bitterly ironic conclusion. The Treasure of the Sierra Madre is a superior morality play and one of the best movie treatments of the corrosiveness of greed. Huston keeps a typically light and entertaining touch despite the strong theme, for which he won Oscars for both Director and Screenplay, as well as a supporting award for his father Walter, making Walter, John, and Anjelica Huston the only three generations of one family all to win Oscars. ~ Hal Erickson, Rovi
News & Interviews for The Treasure of the Sierra Madre
Critic Reviews for The Treasure of the Sierra Madre
Audience Reviews for The Treasure of the Sierra Madre
John Huston made quite a name for himself back in the day with the simple trick of presenting the story from the antagonist's point-of-view, and we are with him (Bogie as Fred C. Dobbs) as he slowly begins to slide into disconnection all the while clasping onto sanity with all the power at his command. Huston gave the protagonist role to his grudging father (Walter Huston), and you can really see him frame the codger in a favorable light (and see ol'Walt love it), but its Bogie's film (everyone knows) no matter who got the Oscar. Tim Holt does well as the unsung third wheel. The bar fight is an exceptional piece of work in a film loaded with intimate gems of moments, not the least of which is Bogie begging for money.
Kevin M. Williams
Super Reviewer
Walter Huston steals the scene and deserved the Oscar he won, but Bogart was unfairly not even nominated for his phenomenal performance in this classic that is all at once a light adventure, a riveting character study and a powerful morality tale about greed and paranoia.
Carlos Magalhães
Super Reviewer
½
Two down at heel Americans stranded in the backwaters of Mexico use the last of their money to go searching for gold in the company of grizzled old prospector Walter Huston. Unfortunately when they strike it rich, avarice turns them against each other resulting in deceit and murder. John Huston's classic story of greed is based upon The Pardoner's Tale from Chaucer's The Canterbury Tales. It's basically a morality story warning of the dangers of greed and how the promise of wealth can blacken a man's heart; in this case Humphrey Bogart in quite possibly his finest performance. Huston is also marvellous as the pragmatic and worldly wise old geezer who predicted everything that occurs to the disbelief of his initially wide eyed and enthusiastic partners. The suspense builds tangibly as the former friends become more and more suspicious of each other, all three at one point or another tempted to stab each other in the back for their share of the goods. It's a brilliant story, expertly told by some of the best in the business and one of the true cinematic greats. One of those films anyone who calls themself a movie buff must surely have on their list.
The Treasure of the Sierra Madre Quotes
| | |
| --- | --- |
| Gold Hat: | Badges? We ain't got no badges! We don't need no badges! I don't have to show you any stinking badges! |
| | |
| --- | --- |
| Howard: | Water's precious. Sometimes may be more precious than gold. |
| | |
| --- | --- |
| Curtin: | Remember what you said back in Tampico about having to carry that old man out on our backs? |
| Fred C. Dobbs: | That is when I took him for an ordinary human being, not part goat. |
| | |
| --- | --- |
| Howard: | Ah, as long as there's no find, the noble brotherhood will last but when the piles of gold begin to grow. . .that's when the trouble starts. |