Treasure Planet
(2002)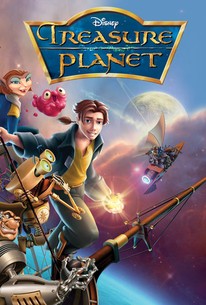 TOMATOMETER
AUDIENCE SCORE
Critic Consensus: Though its characterizations are weaker than usual, Treasure Planet offers a fast-paced, beautifully rendered vision of outer space.
Movie Info
Fifteen-year-old Jim Hawkins stumbles upon a map to the greatest pirate trove in the universe. The tale follows Jim's fantastic journey across a parallel universe as cabin boy aboard a glittering space galleon. Befriended by the ship's charismatic cyborg (part man, part machine) cook John Silver, Jim blossoms under his guidance, and shows the makings of a fine spacer as he and the alien crew battle supernovas, black holes and ferocious space storms. But even greater dangers lie ahead when Jim discovers that his trusted friend Sliver is actually a scheming pirate with mutiny in mind. Confronted with a betrayal that cuts deep into his soul, Jim is transformed from boy to man as he finds the strength to face down the mutineers and discovers a "treasure" greater than he had ever imagined.
News & Interviews for Treasure Planet
Critic Reviews for Treasure Planet
Audience Reviews for Treasure Planet
OH MAN! Where do I start? Treasure Island is one of my favorite novels for thing and Sci-fi is one of my favorite genre, and I love animation, combine all of those things and you get this film. Treasure Planet is a Disney film, no FILM in general that gets everything right. The characters, music, animation, its just all flawless. Joseph Gordon Levitt does a great job at making Jim Hawkins out to be a delinquent and plays it very well and makes him very likable and the relationship he shares with Silver is probably my favorite character relationship I've seen in a film just how well these two work off each other just makes for some great emotional scenes and some great rivalry at the same time. David Hyde Pierce plays Dr. Delbert Doppler and he does a very good job at playing this neurotic scientist out and the relationship he shares with the captain is a great loving relationship, which is the best thing this film gets right which is the relationships which it gets down amazingly well. The film also has a very subtle sense of humor in the robot B.E.N. played by Martin Short and the scenes involving this gelatinous alien blob named morph. Also the animation in this film is hands down Disney's best in my mind. The designs of the ships and the aliens are all original and very creative and the designs of the planets are all very interesting to look at. Also the film has very good build up to very emotional scenes and the ending is one of the biggest tear jerkers I've seen in an animated film. Also this film has one of my favorite side villains ever, Scroop.while not a main focus, he really is the biggest evil entity in this film being the only character to kill another main character off in the film and rather grisly as well. Treasure Planet is just a film that has everything that I can appreciate in a film and thats what makes it my favorite Disney film and one of my favorite films.
Michael Edwards
Super Reviewer
If yer going to reboot a thing then this is how you do it: inject the old with so many new ideas as to make it nearly unrecognisable, yet with enough of the old as to reassure true believers. A well done update is the result here.
Kevin M. Williams
Super Reviewer
½
Disney's track record of animated classics is much more on the impressive side than not. "Treasure Planet" however, teeters on the middle ground. After having a rough childhood, Jim has visit from one of the characters of his dreams, taking him on an adventure to "Treasure Planet" on a ship through space. Meeting many friends and enemies along the way, this is a very fun family adventure film. The main downfall is that is all this film strives to be. The way it began I was hoping for some deeper moments in with the characters when they were interacting with each other, but by the end of the film it felt as though the characters had come and gone just like a real dream. I am not sure if that was the intention, but it was my biggest fault with the the film. Overall, "Treasure Planet" is well-written for a kids film, the voice acting is well-cast, and the story is something that hit home while watching, but the fact that the film does;t deliver more of what the title suggests, is a bit of a letdown. I really enjoyed watching "Treasure Planet" for what it was. I believe I will enjoy it even more the second time after knowing what to expect.
Treasure Planet Quotes
| | |
| --- | --- |
| Captain Amelia: | (to Delbert) You have the most beautiful eyes. |
| Captain Amelia: | You have the most beautiful eyes. |
| Doctor Doppler: | She's lost her mind! |
| | |
| --- | --- |
| Long John Silver: | We best be keeping a sharp eye on this one, eh, Morph? Wouldn't want him strayin' into things he shouldn't. |
| | |
| --- | --- |
| Long John Silver: | you got the makings of greatness in ya |
| Long John Silver: | You got the makings of greatness in you, but you got to take the helm and chart your own course. |
| | |
| --- | --- |
| Captain Amelia: | I'm Captain Amelia. Late of a few run-ins with the Procyon Armada, nasty business, but I won't bore you with my scars. You've met my first officer, Mr. Arrow? Sterling, tough, dependable, honest, brave and true. |
| Mr. Arrow: | Please, Captain. |
| Captain Amelia: | Oh shut up, Arrow. You know I don't mean a word of it. |