The Treatment
(2006)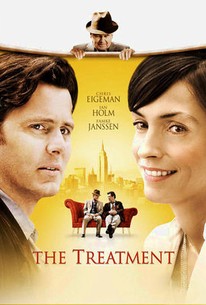 Movie Info
Jake Singer is an anxious young schoolteacher in New York - barely on speaking terms with his father, recently abandoned by his girlfriend, and heading for a life of compromise and mediocrity. Emotionally paralyzed by his mothers death, he embarks on a course of psychoanalysis with a maniacal Freudian - Dr. Ernesto Morales, therapist from hell. But when he meets socialite widow Allegra Marshall, and finds himself upwardly mobile in the Manhattan of serious money and glamour - as he bounces from the couch to Allegra's bed in the allegedly real world and back again - his whole life begins to take on the eerie, overdetermined quality of an analytic session and he must figure out his escape.
News & Interviews for The Treatment
Critic Reviews for The Treatment
Audience Reviews for The Treatment
A man undergoing therapy deals with life's twists and turns for him as he struggles to fit in. Its a Woody Allen film, in a word, without Allen. Janssen does okay as the love interest and Holm almost steals the film as the Argentinian Freudian (didn't the Nazis repratriate in Argentina after the war ... ?) trying to solve Eigeman's neurosis. Eigeman's not usually in the driver's seat and only fares as "okay" being there, but it's not his fault really. The script ... the script!
Kevin M. Williams
Super Reviewer
½
[font=Century Gothic]In "The Treatment", Jake Singer(Chris Eigeman) is a particularly unhappy camper, especially with his ex, Julia(Stephanie March), getting married.(Somehow he manages to get an invite to an engagement party.) As a prep school English teacher, he is having trouble reaching his students, while defending a gifted but troubled student, Walter Cooper(Lindsay Johnson). And his tough love psychologist, Dr. Ernesto Morales(Ian Holm), is not making things easy for him...[/font] [font=Century Gothic][/font] [font=Century Gothic]...but then he meets the widow Allegra Marshall(Famke Janssen).[/font] [font=Century Gothic][/font] [font=Century Gothic][/font] [font=Century Gothic]"The Treatment" is a contrived romance that never truly comes alive, despite a good cast(of which Harris Yulin fares best), some quality moments and taking notice of the various economic strata exisiting in the small area of Manhattan Island. But even though the movie is about the need to come to terms with oneself, it is not a good idea to have such a self-absorbed lead character being on the same level as a recent widow.[/font]
The Treatment Quotes
There are no approved quotes yet for this movie.