A Tree Grows in Brooklyn
(1945)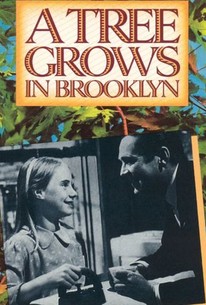 A Tree Grows in Brooklyn Photos
Movie Info
Based on the novel by Betty Smith, this film relates the trials and tribulations of a turn-of-the-century Brooklyn tenement family. The story is told from the point of view of daughter Peggy Ann Garner, a clear-eyed realist who nonetheless would like to believe in her pie-in-the-sky father, whom she loves,
Critic Reviews for A Tree Grows in Brooklyn
Audience Reviews for A Tree Grows in Brooklyn
Flying under the radar, A Tree Grows in Brooklyn is a great Kazan film. Putting aside the snitch tendencies off the screen, the tale of the family in a Brooklyn tenement is particularly dark in a tremendous way.
John Ballantine
Super Reviewer
Director Elia Kazan gives us his adaptation of the Betty Smith novel about a young girl coming-of-age in 1900s Brooklyn. Living with an alcoholic father and a workaholic mother, she and her tough little brother try to survive the rough times in their little apartment home. The father is a singing waiter and dreams of one day making it big in show business. To his daughter, he's larger-than-life character, a charming prince or movie star. The mother is more pragmatic or cynical, or maybe just tired of the hard life, and finds his antics less amusing. The daughter is naturally inquisitive, she attempts to read every book in the library in alphabetical order. It's only natural she's extraordinarily bored at the substandard and overcrowded school she attends. She wants nothing more than to attend the school where the children of higher incomed families go. The father makes it the one wish of hers he can fullfill and somehow manages to get her in. She means to rise above her status in life and make something great of herself. She wants to be a writer. The teacher at her new school encourages her, but warns her not to be a pipe-dreamer, as "they never do anyone any good" (ironically, her father is one of the biggest pipe-dreamers ever, and she fails to see this). The little girl is like a tree growing in Brooklyn, a thing of radiant beauty pushing it's way up through the sidewalk. Where so many darkened minds exist in illiteracy and poverty, she intends to grow up with her imagination intact and in pursuit of the intellectual, despite her surroundings. But when her surroundings are a family as loving and supportive as hers, she almost can't help but succeed. A Tree Grows in Brooklyn is a wonderfully expressed film, full of the sorrow and joy of timeless adolescence.
Devon Bott
Super Reviewer
A family living in poverty with a realist mother and a dreamer dad. Touching father/daughter scenes full of their optimism despite their circumstances are well-executed due to the talents of Dunn and Garner. This movie definitely requires a box of tissues.
nefnie lee
Super Reviewer
A Tree Grows in Brooklyn Quotes
There are no approved quotes yet for this movie.