Trees Lounge
(1996)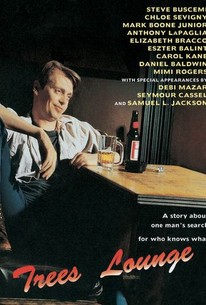 Movie Info
Character actor Steve Buscemi made his debut as a writer and director with this seriocomic tale of a guy who is going through something but doesn't know just what it is. Tommy is a 31-year-old auto mechanic who lost his last job after "borrowing" 1,500 dollars from the cash register and heading to Atlantic City, where he wasted no time losing it all at the tables. The fact that he can't get his own car to run isn't impressing any prospective employers, so Tommy spends much of his time at the Trees Lounge, a local watering hole conveniently located downstairs from his apartment. Eventually Tommy lands some work driving an ice cream truck and becomes acquainted with his ex-girlfriend's 17-year-old niece, Debbie (Chloë Sevigny). When they half-heartedly fall into a romance, it's just one more thing for Tommy to be confused about. Buscemi draws upon a rich cast of supporting actors, including Elizabeth Bracco, Anthony LaPaglia, Carol Kane, Debi Mazar, Samuel L. Jackson, and Mimi Rogers.
Critic Reviews for Trees Lounge
Audience Reviews for Trees Lounge
½
A melancholy yet humorous look into alcoholism that should be remembered for its great dialogue that never sounds expository, yet the plot feels a bit dispersed around many situations, which somehow curiously reflects how Buscemi's character lives his unfocused life.
Carlos Magalhães
Super Reviewer
½
An independent powerhouse from the man who most exemplifies character actor, Steve Buscemi made a film that is patiently paced, full of pure character driven scenes and examples of tragedy meeting the human spirit. The story centers on the human wretch known as Tommy, a barfly who is always fighting with himself, other bar patrons, and the people of his past who detest him for his awkward clinginess yet abandoned him in the first place. Tommy has always had his faults, but with the breakup of a long term relationship and her getting pregnant by a former friend, Tommy turns into a delinquent alcoholic with a penchant for dropping in on people who don't want his greasy company. There are many supporting characters either connected to the skeevy man himself or are on the fringes of his universe, controlled by his disgusting actions. In the course of the film Tommy eliminates anyone who could have gotten close to him or helped him by making the worst of choices, never apologizing for his past actions or the present, and repeatedly mocking the people who are trying to help him change. The reason the film is heart warming and yet deplorably altruistic is that Tommy's actions are always with the explicit need to not be found out. He tries to deflect all blame from himself by lying and dodging the truth with the utmost of ease. Other characters include a misguided and philandering husband who only wants to reconcile with his wife, a bevy of other bar oriented folk who chain smoke and play forties' standards on the juke box, a tired waitress, and the family of his ex-girlfriend, including a teenage daughter (Sevigny) who is confused and naive about his motivations. The film flows well, and bridges the gap between drama and light comedy by ingratiating us to the characters and entertaining with the ensemble effect of a movie of this kind. If anyone believed Buscemi was just a pretty face that is easily reconciled with his sturdy direction and immaculate writing, all of which play into this semi-quirky but highly realistic film about being lost and how unsure one can be in those circumstances. The meaning is that being an awful person doesn't always mean someone should have to be shunned since that leads to more pain and resentment from everyone else. It's a strikingly brilliant film and one that showcases the real talent of Steve Buscemi.
Spencer S.
Super Reviewer
Marie: You don't go to work every day. You go to a bar every day.  "A story about one man's search... for who knows what" Trees Lounge is the name of the bar where Tommy can be found just about 24/7. He's an alcoholic, and this movie is one of the best representations of alcoholism I have seen. It's not overblown like in most movies, where the alcoholic is beating the shit out of people, throwing up everywhere, and crying every twenty minutes. Every alcoholic I've ever met is much more like this character. They are constantly making excuses about why they drink, and if something in their life could turn around they would easily be able to stop. Most of the time that something never happens though, and they are in an endless cycle of booze and excuses. Tommy has many reasons to drink. He's an unemployed mechanic, who was fired from his last job for stealing money. So he isn't exactly getting rave recommendations from that boss, when he applies at other places. To compound that, his boss that fired him also stole his girlfriend of eight years, and she's pregnant. If he could find a job, he could stop drinking. If he could get her back, he could stop drinking. But most of the time, instead of changing his life, he just continues drinking.  The film is very low key which is one of the reasons I really enjoyed it. I love that it doesn't go over the top to make a point. It is slow and patient work from Steve Buscemi, who stars in, wrote, and directs this character driven film. This is the first Buscemi directed film I have seen, and I have to say, I am extremely impressed by it. I was already a big fan of Buscemi's, what with his work in such movies as, Fargo and The Big Lebowski. Trees Lounge just gave me a whole new respect for the guy.  Trees Lounge is intelligent filmmaking. It may not be exciting, but for what it wanted to be it was damn near flawless. You really have to be into these type of slow moving movies, where nothing much happens, in order to enjoy this. It has a true indie feel, which makes it much more enjoyable. It's just a good all around movie.
Melvin White
Super Reviewer
Trees Lounge Quotes
| | |
| --- | --- |
| Tommy: | Everybody's fucked up. But nobody wants anyone else to know they're fucked up. But everyone already knows they are anyway. |
| | |
| --- | --- |
| Tommy: | You're an asshole. You're even a bigger asshole than me, and if you don't know it then you're an even bigger asshole than THAT. |