Trekkies
(1999)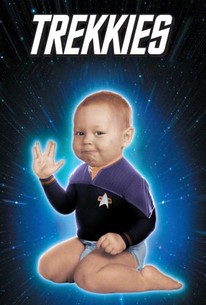 Movie Info
To be a Star Trek fan is one thing, but to be a "Trekkie" puts you in a whole different league. Why this particular show? What meaning has this show had in these people's lives? What kind of spiritual or psychological impact does it have? Does the show's message hold some kind of utopian ideal for the future? Does the show somehow create a way for people to feel they "fit in?" How has it inspired real life scientists, doctors, astronauts, and engineers? The "Star Trek" actors and the fans interviewed in TREKKIES answer these questions and others. The subjects profiled in the documentary span the entire spectrum of fans, from non-uniform wearing doctors, scientists, and teachers to Trek-uniform-wearing Dentists, Jurists, mothers, kids, and others.
News & Interviews for Trekkies
Critic Reviews for Trekkies
Audience Reviews for Trekkies
This is a very interesting documentary on the work of Star Trek fans, and it feels like it was made more for the fans than documentary lovers. There are a ton of famous Trek actors in this movie who come to talk about the phenomenon of the TV series, and its impact on people's lives all over the world. If, for some reason I can't think of, Star Trek ceased to exist, then this would be the perfect documentary to show future generations what it was all about. I don't like a lot of documentaries, and like others it gets a bit boring at times, but it's the best movie to watch if you want to understand Trekkies.
½
Trekkies is a well crafted documentary that takes a look at the fan base of the famed TV show Star Trek. Fans of the shows are truly dedicated and follow the series feverishly. The series has been extremely popular for many years, but Trekkies showcases the dedication of the most diehard fans of the show. I really enjoyed the film, and thought it was a great glimpse into the fandom of Star Trek. Obviously some people may find these fans to be quite obsessive and with good reason, but the thing is, is that if you love something and you're interested in the subject, why not devote your time to something positive. Trekkies is a fun documentary, one that documents a truly interesting subject. For Sci Fi fans, this is a must seem, for viewers that are not used to the fandom, well you might want to pass this up. However if you're looking for a well crafted documentary to watch, definitely give Trekkies a viewing. The film is at times imperfect, but it exposes its subject perfectly, and with that being said, you can appreciate the dedication of the fans, even if you think they at times push the limits a bit too far. Trekkies is entertaining for what it is, and it gives you a glimpse into pop culture like you never seen it before. You'll surely enjoy this if you love a good documentary, but if you don't appreciate the Star Trek phenomenon, you may want to pass this up. This film features lots of interviews with fans and actors, and it goes at the heart of the culture of Star Trek. Trekkies is a fun film from start to finish.
I do love a documentary that focuses on weird and eccentric people. Trekkies looks at the fans of Star Trek. It chooses a small group to follow, from a young SFX whizkid that has gone on to much better things, a woman that insists on being called Commander, a dentist with a decorated surgery and so on. This is all cut together with interviews from some of the stars. Where the film kind of failed was in only showing the most eccentric people, and always surrounded by there memorabilia and/or in costume. I never really got a sense of who these people were without Star Trek. This can sometimes make them seem sad and lonely and often psychologically damaged. Luckily, they are having so much fun that you kind of get swept up by it all. The actors seem to take it too seriously though,recounting stories of how the show has changed or saved peoples' lives, from suicide attempts, to how it liberated black people, to how it helped people get over the deaths of their family etc. It's all a bit much at times and it doesn't really express the kind of fun people are having. Not informative, just a gallery of interesting people.
Luke Baldock
Super Reviewer
Trekkies Quotes
There are no approved quotes yet for this movie.