Tremors 2: Aftershocks
(1996)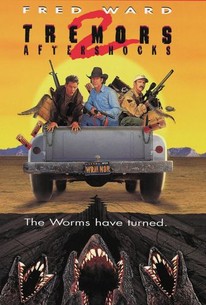 Tremors 2: Aftershocks Photos
Movie Info
The Graboids are back in this sequel to the campy comedy horror hit that finds luckless Earl Basset (Fred Ward) and survivalist Burt Gummer (Michael Gross) teaming up to destroy the monsters that are wrecking havoc in the Mexican oil fields. It's been a good few years since Earl and Burt saved the town of Perfection, Nevada from the strange pre-Cambrian predators, and these days Earl is doing his best to find success as an ostrich farmer. Trouble is, none of Earl's birds want to breed, and it looks as if the farm is about to go under. Just when it seems that things couldn't get any worse for this monster-slaying cowboy, a pair of visitors arrives with a rather unusual proposition. According to the strangers, the Graboids have recently resurfaced in Sonora, Mexico, and they're currently getting fat on a steady diet of frightened oil field workers. Local businessman Carlos Ortega is willing to pay $50,000 a head for each worm killed, but Earl isn't so sure he wants to put himself in harm's way like that again. Still, Earl knows that he's the right man for the job, and after a bit of goading from ambitious cabbie Grady Hoover (Christopher Gartin) the pair are loading up their weapons and heading for the border. Upon arriving in Sonora, Earl quickly warms up to beautiful geologist Kate White (Helen Shaver), but the Graboid population has grown faster than suspected so in order to be successful this group will need the kind of firepower that only Burt Gummer can supply. Ever since Burt's wife walked out on him and the threat of World War III went away, the lonely survivalist has lost all direction in life. This is Burt's chance to prove that he's not just a useless middle aged man. But what the humans have failed to realize is that the Graboids have evolved to become deadlier than ever before, and they're not staying underground anymore.
Critic Reviews for Tremors 2: Aftershocks
All Critics (8) | Fresh (4) | Rotten (4) | DVD (1)
The same type of humor is used for this direct-to-video sequel, which is bland enough to distract from the otherwise thrilling nature of the underground leviathans.
Yet another bad sequel
April 20, 2007 | Rating: 2/5
Not the worst straight to video sequel possible, has some fun moments.
July 25, 2003 | Rating: 3/5
Audience Reviews for Tremors 2: Aftershocks
[img]http://images.rottentomatoes.com/images/user/icons/icon13.gif[/img]
Directors Cat
Super Reviewer
Say goodbye to the small town of Perfection, Nevada and say hello to Mexico. Fred Ward and Michael Gross reprise their roles in the Tremors sequel to save Mexico from Graboids, prehistoric, worm-like monsters that live underground. Right off the bat you can tell this sequel is going to do a really good job of capturing what made Tremors such a great movie: The blend of horror and comedy. Again, it works. Another thing I really liked about the first movie were the characters. Tremors 2 has less characters than the original and that was a downplay. Christopher Gartin's character could've done a better job at being a replacement for Kevin Bacon's character in Tremors, but it's a passable gripe. Helen Shaver is in it and she is pretty hot for her age. One thing I forgot to mention in my review for Tremors is how I loved that the special effects are all animatronics and no CGI. Don't get me wrong, I like CGI, but only when it's absolutely necessary for a movie and not overdone. (Are you listening Michael Bay?) The animatronics in this and Tremors are great and I love that it's all puppetry. Another good thing about the movie is how much more action-packed it turns out to be. I wasn't expecting it, but I enjoyed it. Something worth mentioning is some people who have heard of this movie but never seen are often like "Oh, a sequel to Tremors, there's nothing new, it's just set in Mexico this time." Well frankly, there is something new: The Graboids evolve. That's right, giant worms can have a life cycle. Overall, this movie is funny, exciting, well acted, well written and a really good sequel.
Tyler Robertson
Super Reviewer
Evolution: It's a bitch Good fun movie. This movie is not scary at all, it just thrilling and a joy to watch. Nice sequel. When an army of Graboids - giant, carnivorous underground worms - threaten the Petromaya oil refinery in Mexico, its owners call on Earl Bassett, who once helped kill four of the creatures in Perfection, Nevada. Having squandered the money that came from his resulting celebrity status, Earl is convinced by the $50,000-a-head bounty offered, as well as the enthusiasm of admirer Grady Hoover, who becomes his partner. At Petromaya, Earl and Grady meet geologist Kate Reilly, and begin Graboid hunting, tricking several Graboids into swallowing bomb-rigged, remote-controlled cars. When they find they're facing a lot more Graboids than they ever expected, Earl calls his friend Burt Gummer, a survivalist who arrives well-stocked with weapons.
Tremors 2: Aftershocks Quotes
| | |
| --- | --- |
| Earl Bassett: | You smoked his ass |
| Earl Bassett: | You smoked his ass. |
| Burt Gummer: | Doing what I can with what I got |
| Burt Gummer: | Doing what I can with what I got. |
| | |
| --- | --- |
| Earl Bassett: | Man, Burt, you put a whole new spin on the word "Overkill" |
| Earl Bassett: | Man, Burt, you put a whole new spin on the word 'overkill' |
| Burt Gummer: | When you need it and don't have it, you sing a different tune. |
| | |
| --- | --- |
| Earl Bassett: | [to Grady] You know, you might come in useful. While they are eating you it will give me a chance to get away. |
| | |
| --- | --- |
| Burt Gummer: | I AM COMPLETELY OUT OF AMMO! That´s never happened to me before. |