Tremors 4 - The Legend Begins
(2004)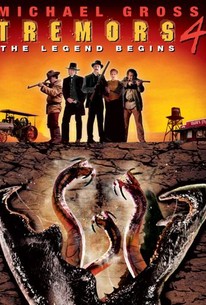 AUDIENCE SCORE
Critic Consensus: No consensus yet.
Tremors 4 - The Legend Begins Photos
Movie Info
When a wealth of silver is discovered in the vast Nevada desert, the small but almost immediately prosperous boomtown of Rejection is quickly established in order to support the Bottom Dollar Mine. Despite the riches beneath their feet that promise to put Rejection on the map and deliver wealth and prosperity to the small community, the fate of the town takes an ominous turn when 17 miners are mysteriously killed. As the fearful residents abandon the mines and flee the town, mine owner Hiram Gummer (series regular Michael Gross) takes matters into his own hands by leading the few remaining residents in a hunt to solve the mystery of the miners' deaths -- only to discover that the unearthly underground killer is a more powerful force than he may have ever imagined. ~ Jason Buchanan, Rovi
Critic Reviews for Tremors 4 - The Legend Begins
There are no critic reviews yet for Tremors 4 - The Legend Begins. Keep checking Rotten Tomatoes for updates!
Audience Reviews for Tremors 4 - The Legend Begins
½
I was pretty recluctant to watch this after disliking the 3rd Tremors movie. Thankfully, this film was an improvement. A lot of peole criticize this movie mainly for being a western, but if you think of it, the first three Tremors movies were pretty much modern-day westerns. (Modern-day back when they first came out.) I had no problem with the western aspect mainly because I like westerns. Obviously, Tremors 4 is a prequel that explains when the town of Perfection (It's named Rejection in this movie) first discovers the Graboids. The only original cast member from any previous Tremors movies in this film is Michael Gross (He's been in every Tremors movie.) yet, he doesn't play Burt Gummer. He plays his ancestor, Hiram Gummer. I really liked how Hiram and Burt are related, yet they're two completely people. Burt was a gun loving tough guy who knew what to do in any situation and he was generally a nice guy. Hiram, however is just a rich, snobby dick to everyone and he can't even hold a gun the right way. Michael Gross did a really good job playing someone he probably isn't accustomed to. In Tremors 3 there was a heavy usage of CGI and I hated it. In Tremors 4, most of the technical stuff is puppetry, but there is a little bit of CGI involved. The humor that the first two Tremors movies had and the third one was missing is in this movie and I really enjoyed that as well. The script was more aware of the audience as well. The director seemed to realize that Tremors has a pretty big fanbase and the third one easily pissed a lot of people off so he had to return to roots of the first two. All in all, this film had fun characters, really good action scenes, nice script and a solid return to original roots in the series.
Tyler Robertson
Super Reviewer
A Revolution Has Begun... Very crappy as I expected, it was painful to watch as they have ruin such a great monster creature story with films like these and tremors 3.. They keep changing the directors what's up with that? Only watch if your a fan of the first 2 films. In 1889, the town of Rejection, Nevada, depends on a nearby silver mine for its income. Rejection has a few residents. Christine Lord runs the local inn, which doesn't get a lot of business because Carson City is the busiest settlement in the area. Pyong Lien Chang, his wife Lu Wan Chang, and his son Fu Yien Chang are immigrants from China, and they own Chang's Market. Other residents include Old Fred, Brick Walters, Stony Walters, Big Horse Johnson, Soggy, miner Juan Pedilla, and Christine's friend Tecopa. When a hot spring causes four eggs to hatch, several men who work in the silver mine are killed by whatever hatched from the eggs. Everyone is too terrified to enter the mine. No one wants to risk their lives, even if shutting down the mine would mean the death of the town. With the mine shut down, the mine's owner, Hiram Gummer, arrives in the area from Philadelphia to investigate. Juan acts as Hiram's guide. As it turns out, each egg hatched a Graboid, but 1889 was about 100 years before they were called Graboids, so Hiram calls them Dirt Dragons. When the Dirt Dragons prove to be too much for the residents of Rejection to handle, Hiram calls upon Black Hand Kelly, the fastest gunslinger in the west. Kelly brings in the heavy artillery, which proves to be absolutely useless when the baby Dirt Dragons grow to enormous size, and one of them kills Kelly. As a result, Hiram decides to leave town, while everyone else refuses to leave the place that they call home. While Hiram is in Carson City, he intercepts a wired message that the Dirt Dragons are no longer in the area where the mine is -- they're heading right for Rejection. Hiram goes to a local firearms store, and he returns to Rejection, very heavily armed. With those weapons, which include a huge punt gun, Hiram and the townspeople prepare to defend the town against the Dirt Dragons.
½
This film is very underrated. It was a pleasant film to watch, and is sure to appeal to every Tremors fan who've watched the first three. I think that this film is better than the weaker Back To Perfection. I think the reason that this film succeeds so much is because it returns to the witty, more comical elements than the first two, instead of the irritating elements of the third. I just the concept of a Tremors film in old west, the only thing missing would be Henry Fonda and Clint Eastwood in the film to make it more awesome. The film is a nonstop laugh fest with Horror and Thrills all rolled in to one. The cast is also a very good one, and they give splendid performances, The Legend Begins, is a great way to end this fun little series.
Tremors 4 - The Legend Begins Quotes
There are no approved quotes yet for this movie.