Tremors 5: Bloodlines
(2015)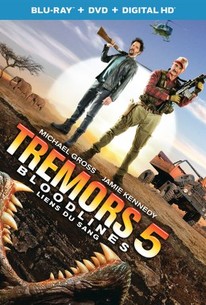 AUDIENCE SCORE
Critic Consensus: No consensus yet.
Tremors 5: Bloodlines Photos
Movie Info
The stakes are raised for survivalist, Burt Gummer (Michael Gross) in his most dangerous monster hunt yet. When Gummer's hired to capture a deadly Ass-blaster terrorizing South Africa, he and his new sidekick Travis Welker (Jamie Kennedy) engage in a battle of survival against the fiercely aggressive Ass-blasters and Graboids. Discovering the monsters have evolved into even more lethal creatures, their killer mission takes on a whole new level of unseen terror--far more than they bargained for.
Critic Reviews for Tremors 5: Bloodlines
All Critics (3) | Fresh (1) | Rotten (2)
It can be a hard line to walk when making a sequel like Tremors 5, where you not only have to make a film that meets the expectations of fans but also is accessible enough for new audiences, and for the most part Bloodlines gets the job done.
Tremors 5: Bloodlines is the beyond-generic reboot that may just bury this franchise once and for all.
A mixed bag of missteps and mild successes, but it does feature some fun work from Mr. Gross.
Audience Reviews for Tremors 5: Bloodlines
To my reckoning, this one is most certainly the worst addition to the Tremors franchise, and yet even it is not outright terrible. The main problem with Bloodlines is that unlike every previous entry, you just don't care about the characters. There's an attachment to lead character, Burt Gummer, but that's chiefly because of his history in previous entries. Less the series we know and love, and more paint by numbers Creature Feature with some somewhat cool designs.
½
A surprisingly decent DTV sequel from a film that originally came out over 25 years ago. Usually when you're two decades into your franchise, though there was a 10-year gap between the fourth film and this one, then there's usually a huge drop off in quality and, obviously, a sense of laziness and complacency when you're dealing with a franchise that does have a sizable cult following. I remember watching the original Tremors several times when I was a wee lad. It wasn't one of the movies I grew up loving, but I do remember watching it several times and I've actually been wanting to revisit the original film. Anyway, this film isn't that bad honestly and it does add some new elements that'll make it easy to squeeze it out a couple more bucks from this franchise. I honestly do think that Jamie Kennedy is a good addition to this franchise and he has solid chemistry with Michael Gross. I definitely think that they can get more mileage out of these two as the current leads of the franchise in the future. I mean you know what to expect from a film like this. The film is tongue-in-cheek and it's meant to lean more on the humorous side of things. There's a surprising amount of blood and guts for a film that's PG-13. I think they skirt around this issue by not actually showing a lot of the gore itself, just the aftermath of it and when they blow up or kill an assblaster or a graboid. They actually got around it in a fairly clever way, because you don't actually feel like they're skimping out on the violence. I've seen parts of some sequels in this franchise, but I don't have any recollection as to whether they were PG-13 or R. Regardless, I think they found a good way to get around that and the film does still have a solid amount of guts. The film, however, does lose its narrative focus, yes, a Tremors movie loses its narrative focus, once the groups are separated and the person that brings Burt and Travis to South Africa, for nefarious reasons, dies. They're separated into two groups of Burt and Travis and the people at the camp which includes Nandi, the little girl and another man. These two groups are essentially killing time until they get together at the end to kill the big bad. If it wasn't for that, it doesn't stop the movie dead, but it halts its progress, I'd have given the film a higher rating. I'd have gone up to 3 stars. Might not be much, but it's an improvement. Though there's still some B-movie fun to be had here, I do think that the pacing needed a little work. That's about the only problem I really had with the film. It knows what it is and it doesn't pretend to be anything other than a silly B-movie. So, while not without its problems, this makes a for a perfectly decent addition to the Tremors franchise. It was close to being a good B-movie, but pacing issues definitely kept it from reaching that height. But I still think there's stuff to enjoy here if you're in a particular mindset. Honestly reminds me of Big Ass Spider, for some reason. Though I'd give Big Ass Spider the nod over this film, for sure. Still, if you're a fan of the franchise, then you'd enjoy this. Even if you're not, or you haven't kept up with any of the sequels, there's some stuff to like about this film even with its flaws.
Jesse Ortega
Super Reviewer
½
I actually liked it. Its as good as the first two Tremors. It had a lot of good clean comedy in it. I was extremely surprised that though only Burt (Michael Gross) returned, the movie still played well. The new cast brought their own edge and comedy to the movie while Michael Gross' character continued to delight. Michael Gross did good. There was only one stupid scene ( it involved Burt in a cage...) but other then that one scene the movie was well written with new ideas. There was a nice little surprise to the ending too. 10/11/15
Jim Pasier
Super Reviewer
Tremors 5: Bloodlines Quotes