Trick or Treat
(1986)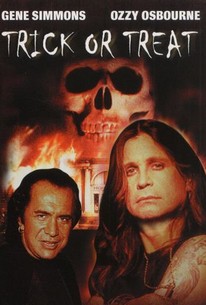 Movie Info
The premise in this horror-rock music-comedy film is so far beyond any reasonable link to reality that it may be a little hard to get into the action. Rocker Sammi Curr (Tony Fields) is dead but because a young friend plays his last, unreleased record backwards, he is brought back to life again. This time around, the musician-singer starts to carry out the litany of horrible acts he once sang about while living. He sometimes electrifies people with the high voltage he carries around with him in his guitar, or in one instance he just reaches into the television set and electrically strangles his worst critic. The problem now is how to get rid of him before he gives himself a really bad name.
Critic Reviews for Trick or Treat
Audience Reviews for Trick or Treat
½
'Trick or Treat' is the prime example of a sleeper: a film that was overlooked upon its release and is actually a kitschy, supremely fun picture in its own right. I love the anti-glorification of the self-destructive rockstar lifestyle and how impressionable teenagers would become drawn to it. Despite their prominence on the box art, Simmons and Ozzy are only in crucial, tongue-in-cheek cameos. Price's angst is relatable and his seance of Sammi is a clever integration to vent his frustrations with the jocks and other cliques. For his directorial debut, Charles Martin Smith has forged an unsettling and rollicking occult thriller.
Cory Taylor
Super Reviewer
½
A horror movie where the spirit of a dead heavy metal star is haunting teens! I loved it, it's a fun awesome heavy metal horror movie.
While looking over the VHS section at my local Goodwill I happened upon this little number, Trick or Treat from 1986. The movie boasts that it stars Ozzy Osborne and Gene Simmons where in truth they are only in the film for like 5 minutes combined. The story is hilarious, it is definitely an 80's movie that captures the horribly terrific hair metal of the time. I would say that this movie was worth the 99 cents I paid for it. Pure eighty's trash in all of its glory. The first thing that I noticed is that this movie is distributed by Lorimar home video, the same company that released such hits as Family Matters, ThunderCats, Full House, and yes... Hangin' with Mr. Cooper. That alone made this a must watch right off the bat. The story is about a devil worshiping dead rock star, Sammi Curr, who perishes in a hotel fire. His number one fan gets his hands on a rare demo that Curr made and actually summons the rock star back from the dead to do his bidding over the radio waves. A pretty stupid storyline and pretty forgettable movie. The soundtrack is provided by Fastway, a go nowhere band from the eighties. Go look them up if you want too, I think their biggest hit was Say What You Will from 1983. The movie doesn't star Ozzy or the Demon, it stars Marc Price from Family Ties, Doug Savant, Alice Nunn, and Tommy Fields (A Chorus Line and Solid Gold dancer) as Sammi Curr. The movie is full of unintentional comedy. If you are in the mood for a crappy eighties movie then I suggest that you pull up a seat and get ready to laugh at this one with some of your friends. The special effects in this movie are passable, it gets the job done. The movie is just so stupid that it really overshadows anything that would be a good remark about it. I am going to give Trick or Treat a 1 of 10. The movie has a fun laughable quality to it and that is about it. There is nothing here that would ever make me want to watch this again. Like I said though it was worth the 99 cents to add to my VHS collection. Watch it with some of your friends before you watch something like Slumber Party Massacre, they're in about the same league. RAGMAN!!! S!D
Brandon Siddall
Super Reviewer
Trick or Treat Quotes
There are no approved quotes yet for this movie.