Trick 'r Treat
(2007)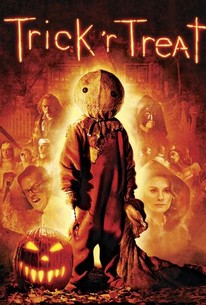 Movie Info
Prolific director Bryan Singer takes a turn towards horror as the producer of this Halloween shocker directed by X2 and Superman Returns screenwriter Mike Dougherty. With four interwoven tales concerning a high-school principal who moonlights as a vicious serial killer, a college-age virgin who's saving herself for that special someone, a woman whose hatred of Halloween is only exceeded by her husband's love of the mischievous holiday, and a callous group of teens who carry out an unforgivably cruel prank, this fall frightener mixes Tarantino-style storytelling with the kind of chills that can only occur on the darkest day of the year. Brian Cox, Anna Paquin, Dylan Baker, and Leslie Bibb all star in a Halloween treat that's sure to deliver a few nasty tricks. ~ Jason Buchanan, Rovi
Critic Reviews for Trick 'r Treat
Audience Reviews for Trick 'r Treat
Ostensibly 'Trick R' Treat' is a tribute to all Hallow's Eve but Michael Dougherty is laboring under the delusion that his self-conscious script is more shrewd that it actually is. The anthology format is divided between a few wraparound stories and some are most effectively spooky than others. The Anna Paquin saga about deflowering her virginal status is a humorless slog until the 'Twilight Zone' twist. Dylan Baker is superbly tongue-in-cheek as a leery principal who is harboring a latent secret. His plotline intersects with Paquin's in a rather scattershot manner. The bait-and-switch prank around the infamous school bus massacre is rote and predictable. The strength of the piece lies in its best segment which is the cantankerous Mr. Kreeg being prowled by Sam, a spectral figure with a pumpkin mask (the sub-Rick Baker jack-o'-lantern makeup underneath is very silly). The genre's forefather, 'Creepshow', possessed a retro vibe that was respectably fun but 'Trick r' Treat' is a disengaging and bombastic mess that rambles along with shaggy-dog conclusions.
Cory Taylor
Super Reviewer
I will just come out and say it. "Trick r' Treat" is one of the best horror/halloween films ever made. You do not get better than this these days, and I can honestly say that I have not been so surprised watching a film before. It has many twists that you never see coming, and even after a twist surprises you, that twist get's turned around and you really have no idea what to think until the final sequence. With incredible writing, superb directing, and great casting choices, this is not a film to miss. We follow numerous characters through the night of halloween as answers slowly begin to unravel, and your mind will be blown. "Trick r' Treat" does absolutely everything right that horror films do wrong nowadays and that is what really made me love it! This film is Amazing in every sense of the word!
½
In 2006, this movie,writer/director Mike Dougherty's love letter to all things Halloween proved that the anthology film was alive and well. What we get here are four interconnected stories taking place on Halloween night in a relatively small anonymous American town. Both morbid, and morbidly funny, we get tales concerning a school principal who moonlights as a vicious killer, a cruel prank that goes horribly wrong, a young virgin's search for that special someone which has a gruesome twist, and finally, a cantankerous old man who dukes it out with a mischievous trick or treating demon (who is basically the mascot of the movie, and ties the four stories together). All of the stories are pretty good, and for me, none of them really sticks out as being overtly better or worse than the others. It's also a fresh surprise to note that there's plenty of twists and clever turns, fair doses of gruesome violence, and, as I mentioned above, some wickedly dark humor. It actually is rather tense at times, and you could make the argument that it could be legitimately scary. All I know for sure is that, despite it's overall short running time, it's a lot of fun, is a great mix of horror and laughs, has some good camera work, and a solid ensemble cast, including people such as Dylan Baker, Anna Paquin, and Brian Cox. All in all, this is a pretty decent and satisfying movie, and you should definitely check it out.
Chris Weber
Super Reviewer
Trick 'r Treat Quotes
| | |
| --- | --- |
| Laurie: | It's my first time...so just bear with me. |
| Laurie: | It's my first time, so just bear with me. |
| Steven: | What are you doing? |
| Laurie: | My, my...what big eyes you have. |
| Laurie: | My, my. What big eyes you have. |
| | |
| --- | --- |
| Steven: | My, my...what big eyes you have. |