The Trigger Effect
(1996)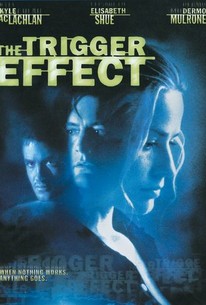 TOMATOMETER
AUDIENCE SCORE
Critic Consensus: The Trigger Effect offers a captivating tale of paranoia and societal collapse, even if it runs out of thrills early on.
The Trigger Effect Photos
Movie Info
The shiny veneer of a Southern California suburb abruptly peels away to reveal rotten wood when a city wide power and telephone outage occurs. This grim drama centers on one young married couple, Matt and Annie who get caught up in the ensuing maelstrom after the lights go out. Their ordeal begins in the early evening when they go out to a movie to get a break from their infant daughter. Unfortunately, much of their time is spent quieting rude, noisy youths. When they get home, they learn their child has a serious ear infection and must call the doctor. The power goes out causing Matt to take drastic measures at the local pharmacy to get that medicine. Back in their darkened home, the couple are visited by Joe, a manly blue-collar worker who irritates the yuppie Matt, but inflames Annie. The three amuse themselves by playing games and drinking beer until a looter comes calling. Matt and Joe chase him outside where he is promptly shot by a neighbor. Things don't get much better from there.
Critic Reviews for The Trigger Effect
Audience Reviews for The Trigger Effect
½
You know, I live in an island (Puerto Rico) where blackouts are an almost daily occurrence. Maybe not so much recently, but the blackouts got really bad here some years ago. There was this really bad hurricane either in 88 (the year I was born) or 89 where my neighborhood was without electricity for ONE WHOLE MONTH. I obviously wasn't a self-aware being back then, but I've still experienced real absurd blackouts. Which is why, to me, this movie is so ridiculously absurd and completely over-the-top. I'm not saying that the movie is bad, it's not actually bad at all. It's decent with a good enough cast to make it watchable, at the very least. I just had a hard time getting into the storyline. The film really has no narrative, it's just the theme of what humanity is capable of when the idea of what they view to be 'civilization' is stripped away. And I wouldn't mind that concept, if the film at least had a story to go along with it, instead of segments (or skits) of humans acting like selfish, reactionary assholes. But there's no real story to speak of. I don't even know what Matt, Annie and Joe's endgame is. Like why did they decide to leave their house to go to Colorado? Who the fuck knows? Why is anything happening in this film? Nobody knows, just because they think it might lead to some interesting moments. That's probably the film's second biggest flaw, the fact that there's no real reason for anything that's happening. The first would be, as mentioned, the fact that the situations they present here are so over-the-top and ridiculous. All films are a work of fiction, that much is obvious, and a lot of them are prone to exaggerations, even biographical films, but there's something just so heavy-handed about the way this film presents its story, its world and its characters that's really off-putting. Again, not that there's anything wrong with telling this type of story, where, supposed, civilized humans act like anything but once they're faced with something they're unfamiliar with, but you don't do it the way this movie did it. And that's a shame because, at least with Matt, Joe and Annie, there's some sort of past there that the movie does play with and it's actually pretty solid. It's sort of bogged down by everything going on around them, but there's something there. I will say, however, that the teasing of sexual tension between Joe and Annie has an unsatisfying conclusion. There was no part of that sentence that I liked writing. But, anyway, they just sort of drop the thing without any confrontation between Annie, Joe and Matt and that was annoying. That was the only part of the film that actually had a semblance of a narrative and they just refused to pay it off. Another element of the film that was flawed. I don't wanna say there was a lot of potential with this movie, it's not like this was as inventive as Scott Pilgrim vs The World, but there's a good enough idea here that they could've made something solid and they just didn't. The lack of a true narrative and motivations for the leads, the over-the-top approach to its story, its unsatisfying conclusion to one of the main elements of the film. All of this really hold the movie back. It's not bad, it's decent at best, it's just that it's obvious that its flaws are more glaringly obvious as opposed to its positive points. I can't recommend based on that, but I guess you could do worse. But that's hardly reason to watch a movie.
Jesse Ortega
Super Reviewer
Not bad but not great. I think that with a stronger director than Koepp, this would really have hit home. These actors can and have risen higher when called to.
John Ballantine
Super Reviewer
An amazing movie, that just has you thinking about certain things. hehe
The Trigger Effect Quotes
There are no approved quotes yet for this movie.