Trilogy of Terror
(1975)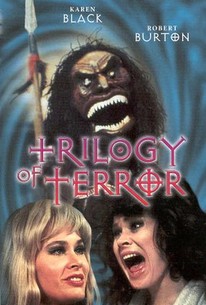 Movie Info
In this made-for-TV horror showcase, Karen Black plays four separate roles in three successive tales written or based on the works of venerable genre writer Richard Matheson. In "Julie," Black portrays a prim college literature instructor who engages in a debauched affair with one of her students after he drugs, date-rapes, and blackmails her into submission; here and in the other stories, however, things aren't what they seem. "Millicent and Therese" features the actress in two roles as good sister/bad sister twins who use witchcraft to settle their sexual and moral differences. In the final and most famous segment, "Amelia," Black plays a spinster with an insufferable mother who sublets a high-rise apartment in the city in order to find romantic freedom. When she purchases a Zuni fetish warrior doll as a present for her anthropology-professor beau, it comes to life and chases her around the flat with considerable tenacity. A failed pilot for a horror anthology series, Trilogy of Terror first appeared on ABC in 1975 and subsequently gained a devoted cult following. Black originally didn't want to participate, but agreed after her husband, Robert Burton, was cast in the role of the date-raping blackmailer. Although the actress has appeared in numerous subsequent horror films, it was her indelible quadruple roles here that inspired cult New York rockers the Voluptuous Horror of Karen Black. The film also allegedly inspired the 1984 horror-blaxploitation flick Black Devil Doll From Hell. A belated sequel, Trilogy of Terror 2, also from former Dark Shadows director Dan Curtis, followed in 1996.
News & Interviews for Trilogy of Terror
Critic Reviews for Trilogy of Terror
Audience Reviews for Trilogy of Terror
This classic made for TV horror anthology is one of the finest in the horror genre. Featuring three well constructed and terrifying stories, aided with a stunning performance by actress Karen Black, who is featured in all three stories, Trilogy of Terror remains one of the standout films of the 70's, one of the best films that has never really got the credit it deserved. Karen delivers a great performance in all three stories, and it's one of the key aspects to why the film is this good. The other is the writing of horror icon Richard Matheson, who wrote the film, wrote a solid story and it is a film that is truly terrifying, and is sure to appeal to genre fans. Director Dan Curtis crafts a terrific film, and for a Made for TV affair, it's definitely one of the best I've seen. What makes Trilogy of Terror such a good film is that it's a film that doesn't use great gimmicks to terrify you, the ideas here are simple, but the terror factor is high. Matheson's script is excellent and he knows how to get the most out of his ideas by using simple ideas, which are much more terrifying than elaborate concepts that fizzle out. For me, the best story was the third one, "Amelia", which is features the famous Zuni Doll, upon seeing that, it was one of the most terrifying things that you've witnessed, and it's one of the most accomplished, well executed of the three stories, and all three of them are very good and overall top notch terror. If you're in the mood for one of the greatest horror anthologies that has ever been committed to film, definitely watch Trilogy of Terror, it's a fairly short film at 72 minutes in length, but it's memorable from start to finish, and it's one of the most underrated and worthwhile horror gems that I have seen in a very long time.
I was really surprised and impressed by Karen Black in this movie, she plays all the main characters in the movie perfectly, it's very cool. The first two stories are a bit predictable, but fun. The last one is unpredictable and exciting. I really enjoyed this movie, it's a great anthology horror film, and I recommend it.
The first two stories are fine but the justly famous final one is enough to make you jumpy for days after.
Trilogy of Terror Quotes
| | |
| --- | --- |
| Chad Foster: | You've drugged me! |
| Julie: | [Flippant] No dear, I've killed you. |
| | |
| --- | --- |
| Amelia: | [last lines] This is Amelia, mom. I'm sorry I acted the way I did. I think we should spend the evening together, just the way we planned. It's kind of late though. Why don't you come by my place and we'll go from here? No, I'm all right! Good. I'll be waiting for you. |
| | |
| --- | --- |
| Amelia: | [on the phone, threatened by a supernaturally animated Zuni hunting fetish doll] Operator, get me the police! I DON'T KNOW where I'm located, just get me the police, there's a... there's a... just get me the police, PLEASE? |
| | |
| --- | --- |
| Amelia: | This can't be happening! This can't be happening! |