Trilogy of Terror II
(1996)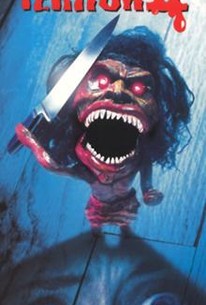 AUDIENCE SCORE
Critic Consensus: No consensus yet.
Trilogy of Terror II Photos
Movie Info
The long-awaited sequel to the 1975 made-for-TV cult-horror classic, Trilogy of Terror 2 features the original's knife-wielding Zuni fetish doll back in action, still diminutive and thirsty for human blood. The first story of the trilogy, "Graveyard Rats," sees a woman doing time amidst flesh-eating vermin after killing her rich husband. "Bobby" looks at the consequences faced by a woman who strikes a deal with Satan to bring her drowned son back to life. "He Who Kills" stars everyone's favorite homicidal fetish doll and is based upon Richard Matheson's short story "Prey."
Critic Reviews for Trilogy of Terror II
There are no critic reviews yet for Trilogy of Terror II. Keep checking Rotten Tomatoes for updates!
Audience Reviews for Trilogy of Terror II
I think Trilogy of Terror II is actually better than the first one. This was a made for TV movie, so it definitely lacks big Hollywood film like quality. That doesn't mean this is a bad movie though. Trilogy of Terror II is a great movie. It's a spooky little gem. First Story: The Graveyard Rats
"A wealthy man by the name of Ansford discovers his young wife Laura having an affair with her cousin. Having video proof he threatens Laura to be faithful and honest or he will turn the video over to the news stations and cut her out of his multi-million dollar will. Meanwhile, her lover Ben comes up with the idea to murder Ansford and collect all his money. After being pushed down the stairs and killed, Laura and Ben are more than happy to collect their winnings...however all doesn't go as planned." The Graveyard Rats was my least favorite story. I do have to give it credit though for it's suspenseful beginning. The reason I didn't care as much for this story was because of it's ending. The payoff was really a big let down. Everything before the ending was great though. It was a very thrilling mystery that kept you wanting to see what would happen next. I just wish the ending was different. It's still a decent story though. Second Story: Bobby
"It is has been some time since Bobby accidentally drowned, leaving his mother Alma depressed and guilty. However, while her husband is away on business, she determines to get her son back who died. Armed with a magic book and a Key of Solomon, she conjures the dark forces to bring her son back. Before going to bed, a vicious thunder storm approaches the luxurious beach mansion. Hearing a knock, she opens the door to discover her son. However, all doesn't work out when Bobby goes completely mad and begins to terrorize his mother in the dark house with a sledgehammer and a butcher knife." Bobby was a truly creepy story. Very eerie and atmospheric. Bobby is actually a remake of another story in a Dan Curtis film titled "Dead of Night", which was creepy as well. I remember first watching this one when I was 16 and it scared the hell out of me. I first caught Trilogy of Terror II when it aired on TV for the first time, on October 30th, which was a great way to start off my Halloween. Bobby was creepy! Third Story: He Who Kills
"The infamous Zuni doll from the original movie marks his return. After finding the double homicide of Amelia and her mother from the first movie with the doll at the scene, the local police drop off the doll to local Doctor Simpson. As she begins to examine the doll she learns that the doll comes to life when a gold chain is removed from his neck and that the doll has a desire for flesh. It also seems to regenerate as when she chips away the charred wood, the doll seems to be brand new." This was the movie's best story. I liked this tale of the Zuni doll better than the one in the first movie. It's kind of creepy, and it's surprisingly violent as well. The Zuni doll is much more enraged and furious in this one. Like the second story, this one has great atmosphere, with spooky dark hallways and corners surrounding the museum. He Who Kills was a great story to end the movie with! The acting in this movie wasn't the best, but it's excusable, and being that this was a made for TV movie they did a pretty good job. Trilogy of Terror II is a real treat. This is a perfect little Halloween time kind of movie, and I definitely recommend it!
jd cryptic
Super Reviewer
Trilogy of Terror II Quotes
There are no approved quotes yet for this movie.