Triple Frontier
(2019)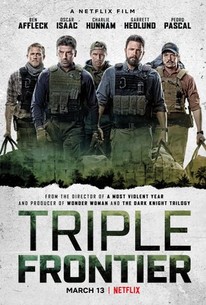 TOMATOMETER
AUDIENCE SCORE
Critic Consensus: An outstanding cast and ambitious story help Triple Frontier overcome an uneven narrative -- and elevate the end result above a crowded field of grim and gritty heist thrillers.
Movie Info
A group of former Special Forces operatives (Ben Affleck, Oscar Isaac, Charlie Hunnam, Garrett Hedlund and Pedro Pascal) reunite to plan a heist in a sparsely populated multi-border zone of South America. For the first time in their prestigious careers these unsung heroes undertake this dangerous mission for self instead of country. But when events take an unexpected turn and threaten to spiral out of control, their skills, their loyalties and their morals are pushed to a breaking point in an epic battle for survival. Directed by Academy Award (R) nominee J.C. Chandor (Margin Call, All Is Lost, A Most Violent Year) and co-written by Chandor and Academy Award (R) winner Mark Boal (The Hurt Locker, Zero Dark Thirty).
Critic Reviews for Triple Frontier
Audience Reviews for Triple Frontier
½
Triple Frontier seems to want to say some important things about the way the US simultaneously uses its soldiers to enforce its will on other nations, yet also completely fails to take care of said soldiers, especially after they've retired. But that really seems like an afterthought in a pretty baseline classic heist formula. Nobody fails Triple Frontier particularly, it just gets lost trying to pick between a brodown and a message.
½
Some retired Special Forces guys, hard up for cash and back in the States (moaning about how they were used and then discarded), decide on one more mission: to rob a drug dealer in South America and keep the money for themselves - "to even the score". A heist film. The first part of it is about them finding the rationale (which they already had), the second part is about their action and escape. There are scenes of tension, but the work feels uneven, disjointed. Oscar Issac delivers a decent turn. Affleck doesn't seem like he wants to get off of the couch and go outside.
Kevin M. Williams
Super Reviewer
½
Star-studded Netflix action flick that starts out slowly but once it found its footing, things get pretty exciting. Having the supposed climax of the film happen rather early on makes everything coming after that pleasantly unpredictable. Thoroughly entertaining and with interesting characters, the viewer is gladly on board for the ride. Some parts play out maybe a tad too quickly, but overall the experience is pretty satisfying and even calls for a sequel.
Triple Frontier Quotes
There are no approved quotes yet for this movie.