The Tripper
(2007)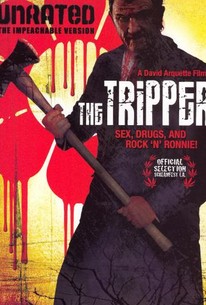 Movie Info
A group of stoners at a rock festival is stalked by a serial killer wearing a Ronald Reagan mask in the unrated version of this outrageous horror comedy featuring a cast that includes Courteney Cox and David Arquette, who also co-wrote and directed. Jaime King, Thomas Jane, Jason Mewes, Balthazar Getty.
News & Interviews for The Tripper
Critic Reviews for The Tripper
Audience Reviews for The Tripper
Don't expect a great film, or even a good one; rip-offs galore and plenty of nonsense cut-away/scenes. But Ronald Reagen is a huge saving grace for this beermat script. If it weren't for the weird insert of this serial killer I think I would've been pretty saddened at having lost time on it. But as it is those Reagen moments are pretty funny and strange enough to sit and wait for more. If like me you have to watch this on the TV because nothing else is on and so you're stuck with it then why not, don't bother making any effort to see it though and don't blame me if you do, you were warned.
Cassandra Maples
Super Reviewer
A strange, stoner slasher produced and directed by David Arquette (Scream). It's quite a decent modern slasher, quite odd but the back story as to why this guy goes off the rails killing hippies is explained. Less so the high regard Ronald Regan is given. It's funny in places, has a fair bit of gore, I found the tripping hallucinations a tad annoying. There is even a brief cameo from Courtney Cox-Arquette. Overall pretty good compared to many recent slasher offerings.
½
If you like seeing hippies getting axed to death by Ronald Regan, this is the movie for you. Other highlights include Courtney Cox getting killed by evil dogs, and Paul Reubens covered in outhouse crap before he gets chopped down the middle with a chainsaw.
Curtis Lilly
Super Reviewer
The Tripper Quotes
| | |
| --- | --- |
| Frank Baker: | I don't care if you have to sing motherfucking kumbaya, just get the fuck out there! Kapeesh!? |