Tripping the Rift: The Movie
(2008)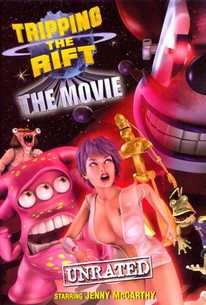 AUDIENCE SCORE
Critic Consensus: No consensus yet.
Movie Info
A routine mission to protect a contentious princess devolves into a seriously warped space adventure in this full-length animated comedy featuring the voices of Stephen Root, Jenny McCarthy, and John Melendez. Chode and his crew are safeguarding a royal pain in the backside when a team of indestructible clown assassins and sex-starved housewives send things spiraling out of control. Now, as a time-traveling assassin threatens to transform a boozy birthday party into a blood-soaked crime scene, it's up to Gus, Six, T'nuk, Whip, and Bob to ensure that their tempestuous charge arrives at her intended destination in one piece.
Critic Reviews for Tripping the Rift: The Movie
Audience Reviews for Tripping the Rift: The Movie
Cartoon swear...make me laugh... Never heard of the TV show which could have warned me away from this immature unfunny crap. It's just a bunch of episodes stuck together. Each one less funny than the last. Plenty of repetitive jokes, we get it, the Robots gay. The parodies are shit and jokes have been done before. It's literally written by 10 year olds...probably. Animation is shoddy and the voice cast are shit. I hate it. Painful, poor and predictable.
Luke Baldock
Super Reviewer
½
I like this show, and since I haven't got cable, it's convenient that they mashed all of season three into one movie. It's typical Tripping the Rift, broad comedy about sex and scifi, which if there's one broad comedy genre I wouldn't mind being expanded, it's the sex-n-scifi one. I appreciate that the rendering may be a little more costly for this show than say...Aqua Teen Hunger Force, but I'm disappointed the creators couldn't push through a new season plus a movie. When the comedy is this broad, and scifi has become as mainstream as it is, the writers can't possibly be aching for jokes and setups.
_kelly .King
Super Reviewer
Tripping the Rift: The Movie Quotes
There are no approved quotes yet for this movie.