Triumph of the Spirit
(1989)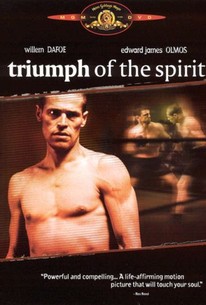 Triumph of the Spirit Photos
Movie Info
Triumph of the Spirit is the true story of Salamo Arouch, a Greek-Jewish boxer imprisoned in Auschwitz during World War II. Arrested while attempting to help his family and friends escape the Nazi juggernaut, Arouch (Dafoe) is slated for extermination. He manages to survive--and to serve as an inspiration for his fellow inmates--by literally boxing for his life. He does this at the orders of his SS captors, who gamble on the outcome of Arouch's bouts. With each victory, Arouch is rewarded with extra bread rations, which he passes on to his family. Counterpointing the main story is the seemingly foredoomed romantic relationship between Arouch and female inmate Allegra (Wendy Gazelle). An uplifting coda rounds out this grim factual account. Triumph of the Spirit was filmed on location at Auschwitz--the first film of its kind to be lensed in that infamous locale.
Critic Reviews for Triumph of the Spirit
All Critics (7) | Top Critics (2) | Fresh (4) | Rotten (3) | DVD (1)
Triumph is spooky, and it is winningly effective that way.
Blinded by the fact that the story is based on a man's life, that it "actually happened," the film seems to assume that the message is in the very accuracy itself. But at the end we feel confused and unsatisfied.

Audience Reviews for Triumph of the Spirit
A poorly written and executed film, based on a heartbreaking, harrowing tale, is still a poorly written and executed film. The boxing scenes are actually this bomb's saving grace. Aside from that, "Triumph" is a term that's about as far from proplerly describing this as possible. Considering the powerful nature of the story, that seems hard to believe, but, behold! Here's the first film of which I am aware that does a total disservice to the plight of Jewish people during the Holocaust. Bad production values, and trite portrayals of both Germans and Jews make this move uninteresting.
Cynthia S.
Super Reviewer
½
A good screenplay that seems bogged down by bad casting. Dafoe is exceptional but most of the rest seem oddly out of place. This should have been and could have been so much better.
Randy Tippy
Super Reviewer
Triumph of the Spirit Quotes
There are no approved quotes yet for this movie.