Trog
(1970)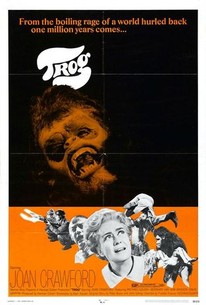 Movie Info
Anthropologist Dr. Brockton (Joan Crawford) believes she has discovered the missing link in this flat science fiction drama. The creature is found in a cave and brought to her laboratory to undergo tests for her research. The hairy beast with the face of a monkey loves classical music and hates rock & roll. When one of the slack-jawed yokels opens his cage, he escapes and goes on a killing rampage as he tries to return to his cave. In a gentle moment with a little girl, the beast shows a tender side that recalls a scene from Frankenstein. Soon troops are called in, despite Brockton's protest to entomb the creature by dynamiting the entrance to the cave. This was the last film for Joan Crawford, an inglorious way to end a legendary film career.
Audience Reviews for Trog
½
The good: the ultra professionalism of Joan Crawford even in dreck like this and some pretty views of the English countryside and a small village. The bad:everything else in this terrible movie.
What a way to go. In Joan Crawford's last film, she plays a scientist who discovers and befriends -- in the interest of science -- a prehistoric man, This thing is godawful. But when I saw it I was with a similarly smartass bunch of friends and we had a blast laughing at it. Joan, a star of your magnitude doesn't deserve to end her career like this. But then again, you're a child abusing monster. Maybe being cast in this was payback for the bad karma you built up.
½
This doesn't get three and a half stars because it's a good film. It gets three and a half stars because it's so bad that it's actually fun to watch. You have to give Joan Crawford credit, even with this material she gives it her all. What a trooper!
Randy Tippy
Super Reviewer
Trog Quotes
There are no approved quotes yet for this movie.