The Trojan Horse
(2008)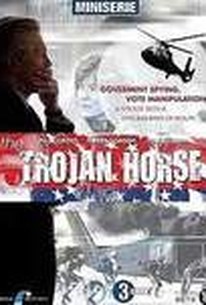 AUDIENCE SCORE
Critic Consensus: No consensus yet.
Critic Reviews for The Trojan Horse
There are no critic reviews yet for The Trojan Horse. Keep checking Rotten Tomatoes for updates!
Audience Reviews for The Trojan Horse
In "The Trojan Horse," it has been two years since Canada has been folded into the United States. President Standford(Tom Skerritt), with the help of his chief adviser Rafe Kott(Saul Rubinek), is looking for a pretense to intervene militarily in Saudi Arabia before Chinese interests can prevail and they have been handed one on a silver platter in the person of an ambassador being kidnapped in country. But former Canadian Prime Minster Tom McLaughlin(Paul Gross, who also cowrote) negotiates his release, putting him on every news program in America. This is only the first part of his fiendishly cunning plan to be elected President, along with his own assassination. Meanwhile, journalist Helen Madigan(Greta Scacchi), with the help of John Neelon(Clark Johnson), is looking for the truth behind a mass murder in London. "The Trojan Horse" is an intelligent and timely political thriller that juggles skullduggery on four different continents(sorry Australia and South America) with a distinctly Shakespearean flavor. As the ends never justify the means, the tragedy comes from its exploration of what it truly takes to get elected, as McLaughlin makes deals with international rogue elements to get their backing. And while it would have been so easy to have him be pure, it is much more satisfying to have McLaughlin be deeply flawed, as the movie turns Paul Gross' natural charisma against the character. By comparison, the storyline concerning Helen Madigan is deeply contrived, starting with her first involvement in the investigation.(I'm nauseated to think that a possible theme is lost children.) That is not to mention that John Neelon is okay with orchestrating mass murder but blanches at the killing of a journalist(Admittedly, an attractive one). And that's not the end of it, either. Note: "The Trojan Horse" is a sequel to "H2O" which is apparently not available on DVD and I have not seen. The events of that movie are recapped at the beginning of "The Trojan Horse."
The Trojan Horse Quotes
There are no approved quotes yet for this movie.