Troll
(1986)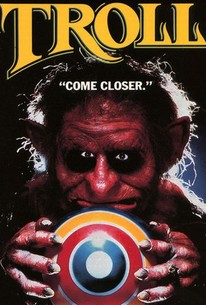 Movie Info
A young family moves into a San Francisco apartment building and soon afterwards begin to notice that their youngest daughter is acting very strangely. This horror-adventure explains why. It seems that the building is home to Torok, an ancient evil troll who is looking to create more trolls. It is he who takes over the body of little Wendy and begins gradually turning her into a horrid little troll. At first no one but her big brother notices the changes, but then Wendy begins turning the other residents into goblins. Now the only one who can stop her is the peculiar old lady next door. It seems she is a witch and that she and Torok have been arch rivals for centuries
News & Interviews for Troll
Audience Reviews for Troll
Troll really isn't half-bad. If I'd seen it when I was 7, it probably would have become one of my favorite movies. A family moves into a building and some evil replicant troll in the basement takes over their daughter's body. From then the Troll starts to assimilate the other neighbours in a scheme that turns out to be some sort of bid for power, according to the mysterious hermit woman. As witches go, she totally fell down on the job of keeping tabs on the troll. The effects are quite impressive, and despite the silliness of the story they really run with it with gusto. It's funny; even though it's dumb, it makes the effort to kinda make sense, so it's okay.
Emily Armstrong
Super Reviewer
The subject of trolls is something of an obscure and often overlooked figure in mythology. Now, the reason why is due to two main factors. The first will have to be the rise of hobbits and other mythological creatures. You see, due to them taking over the popularity of mythology, Trolls are often overlooked. Even more that when we do see them, they do not, at all, look like the typical Trolls that you will see in literature and other mythologies. The second is... This film. Made on a shoestring budget in 1986, Troll is a prime example of how bad a film can be. I know that by the time I review this film, anything that has been said and done has been already checked off. But, this film is unbelievable. In terms of everything. But, like the reviewer that I am, I am going to try to analyze this mess. First the direction. While this film is fast paced, make-up effects man John Carl Buechler (known for working on some of the Friday the 13th films, A Nightmare on Elm Street series, Halloween series) can not direct his way out of this film. From start to finish, he conducts this film like some sad ten year old kid with ADHD and what comes out is something unlike any other. Next we have the script. While there is something of a plot in their somewhere, it is filled with incoherent dialog, weird situations, and some of the oddest character development I have ever seen. Now the acting. May I ask what the hell happened to Noah Hathaway? Okay, lets look at this: He was in the great German/American fantasy The NeverEnding Story playing Atreyu. Now he is playing (and I wish to God I was joking) Harry Potter Jr. Harry Potter, in this film, is one of the weakest wannabe wizards I have ever seen. Okay, I get that he is young and he befriends this witch who teaches him some magic. But, why so weak and pathetic? Plus, he constantly changes his mind about his goal in this film. Seriously, who written Harry Potter. Due to their being a score that is just bad, I am not going to even talk about it. Sorry. Overall, this is a film that is bad, but strongly funny. I am not joking! If you must watch this film, watch it with a group of friends and just laugh at such dialog as: "I am Godzilla!" and "Okay, my name is Harry Potter".
Zach Brehany
Super Reviewer
Harry Potter Jr. rescues his little sister from an apartment building infested with twisted muppets. Cheesy but kinda fun. *SEE ALSO: Critters, Leprechaun, Ghoulies, etc.
Randy Tippy
Super Reviewer
Troll Quotes
There are no approved quotes yet for this movie.