Troma's War
(1988)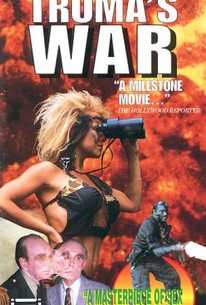 Movie Info
After their plane crashes on a tropical island, survivors discover and fight neighboring terrorists who plan on gaining control of the States by infecting multitudes of people with the AIDS virus.
Critic Reviews for Troma's War
Audience Reviews for Troma's War
A group of plane crash survivors find themselves on an island inhabited by camouflage clad commandos. A talentless cast, excessive gore, incredibly stupid dialog, and topless women. In other words, vintage Troma.
Randy Tippy
Super Reviewer
½
Thank God for troma! This is the epitome of low budget classic film making. Lloyd Kaufmen delivers the goods with TROMA'S WAR. GORE! GORE! GORE! NUDITY! AND it's funny to! Troma is not known for it's big budgets but this one appears to have the biggest budget of any of their previous works. And you can tell that every dime went into the production. Lloyd put together an impressive cast for this one, and introduced us to the great Joe Fleshieker (who returned in other Troma classics). The action is great. This is what we have coem to expect from Troma. This is troma at it's best. I also recommend Toxic Avenger 1-3, Citizen Toxie, and Bloodsucking Freaks.
Cassandra Maples
Super Reviewer
Troma's War Quotes
There are no approved quotes yet for this movie.