Truck Turner
(1974)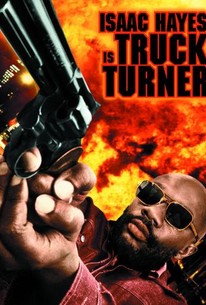 Movie Info
Mack "Truck" Turner (Issac Hayes) is an ex-football star who, due to a career-ending injury, is working as a skip tracer (bounty hunter) with his buddy Jerry (Alan Weeks). The two accept a job from a bail bondsman named Fogarty (Dick Miller) to apprehend dangerous pimp Gator (Paul Harris). After a couple of inquiries -- including scaring a coke dealer by hanging him out a window and a crazy car chase -- they finally find their way to Gator's hideout, where Truck shoots him. Gator's partner in prostitution, Dorinda (Nichelle Nichols), then offers a group of pimps a share in her stable of girls if they revenge the death of Gator, and forges a contract for Truck's life with Harvard Blue (Yaphet Kotto), suave head of organized crime in the city. But the towering Truck, always one step ahead, proves a hard target.
Critic Reviews for Truck Turner
All Critics (5) | Fresh (3) | Rotten (2)
Written originally for a white cast, Kaplan instead got the opportunity to helm a more diverse universe, one that's silly, vicious and ultimately, a lot of fun.
Given his iconic bald head, gravitas-laden voice and enormous musical success, it was inevitable that someone in the blaxploitation-heavy '70s would attempt to turn the unassailably cool Isaac Hayes into an action hero.
Audience Reviews for Truck Turner
½
This is a fairly obscure blaxploitation film, but it's worth seeking out. Jonathan Kaplan (Unlawful Entry) directs this action picture about an ex-ffotball player turner bounty hunter out for revenge. Isaac Hayes provides the music and stars as the title character, and he does a pretty good job. He makes for a credible action hero. I know he acted in some other movies, but it's a shame he didn't act in more, because he could have made a great career in pictures. Yaphet Kotto does a great (as always) job as the main villain, but I don't think this is his best work. It's not bad, though. The music is fun, the location shooting looks good, and the action is pretty well done, especially the mayhem at t he hospital. This probably falls somewhere in the upper half of the middle of the blaxploitation spectrum, as far as quality goes, and, while this isn't really a terrific picture in general, for a B-movie, it's quite decent so, as I said, try and seek this one out if you're in the mood for an entertaining 70s action romp. On a personal note, I actually have an extremely loose connection to this movie. My brother's girlfriend's boss's husband was a child actor, and he was in this movie. His name is Randy Gray, and in this film, he was credited as "Kid In Hospital". He's the kid that Yaphet Kotto briefly takes hostage as he tries to escape during the climactic shootout.
Chris Weber
Super Reviewer
A Soul Cinema Classic from the golden age of the 1970's. Director Jonathan Kaplan first and only attempt into making a blaxploitation flick that became AIP's biggest moneymaker of that year. Not only the movie was great,but the soundtrack to this is incredible! Watching the great Issac Hayes(who won the Oscar in 1971 for his Musical Theme to Shaft) as Truck Turner who is a modern day bounty hunter taking out the baddies including the ultimate showdown with Yaphet Kotto is well worth viewing not to even mention the grindhouse performance of Nichelle "Uhara" Nichols as a sadistic evil female pimp(who wants to get her revenge against Truck Turner) who acting chops goes to anything beyond the dimension of Star Trek(and as far away from the Uhara character as she could get). "Truck Turner" was one of two action-packed films that were HUGE moneymaker for American International when it was released in 1974. The other AIP moneymaker? "Foxy Brown" which came out in the summer of that year.
Mister Caple
Super Reviewer
½
1970's blaxploitation film which earns an extra star for having the gorgeous Isaac Hayes in it as title role and leading man. Plus it may have been one of his very earliest films but already he's shining with more star power than a bucket fulof galaxies,. Plus there's a great soundtrack by the man himself. Oh, plus he only goes to bed with his girlfriend for a full ninety minutes, notwithstanding the temptations on offer from stables of whores run by the local pimps including a young Commander Uhura and a very young Yaphet Kotto, a full two decades before he gave up a life of crime to run a Homicide department,. If you like ths genre, check it out, it's a good one. . Oh, and did I mention Isaac Hayes was in it too?
Truck Turner Quotes
There are no approved quotes yet for this movie.