True Believer
(1989)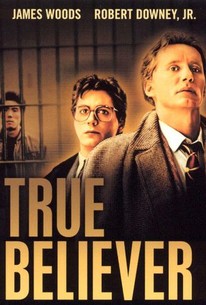 TOMATOMETER
AUDIENCE SCORE
Critic Consensus: A compelling mystery, social themes, and powerful performances from a pair of well-matched leads make True Believer a legal thriller that definitely passes the bar.
Movie Info
The only True Believer at the beginning of this drama is idealistic young attorney Robert Downey Jr., who apprentices under the guidance of celebrated civil-rights activist James Woods. Alas, in the years since the sixties, Woods has become a disillusioned, dope-smoking ambulance chaser. Goaded by Downey, Woods takes up one last "lost cause:" that of Korean-American prison inmate Yuji Okomoto, who is about to be tried for the self-defense slaying of another prisoner. As Woods investigates, he unearths several iniquities in the trial that sent Okomoto to prison. Despite the fact that the one witness who might clear Okomoto is an unhinged conspiracy theorist, Woods endeavors to re-open Okomoto's case--which plays right into the hands of sharkish, politically ambitious DA Kurtwood Smith. Chock full of plot twists and last-minute shockers, True Believer was popular enough to inspire a spin-off TV series, Eddie Dodd.
Critic Reviews for True Believer
Audience Reviews for True Believer
Not bad but you would expect more from Woods and Downey who have contributed to the acting canon much more effectively in other films. Consider this to be a Sunday afternoon nothing else better to do type of film.
John Ballantine
Super Reviewer
A defense attorney with a ludicrous pony tail defends a man accused of murder. I'm surprised by the critics' positive reviews of this thoroughly unexceptional film. Most of the reviews focus on Woods's performance, but whereas his other characters' extravagant posturing seemed to fit the situation and persona, here, he simply seems unreasonable and unstable. He irrationally yells at his cohorts, spouting treatises about justice for society's less fortunate, and everything he says is right and justified, but the manner with which he says it reminds me of those pundits on television "news" who do nothing but scream at each other. His character is supposed to be a remnant from the 60s, as indicated by the pony tail wig and the pot, but there's no real exploration of his past and how that past shaped his present. And amid all the histrionics is Robert Downey Jr. who has never been more unnoticable. As a film, this is a wholly predictable procedural with fewer surprises than the worst episode of Law and Order. The clues are all obviously placed, and the final courtroom scene is so theatrical that it defies all believability. Overall, after I read positive reviews of a film I didn't like, I normally reconsider my star rating, but True Believer was too poorly constructed and too pedestrian as a whole.
Jim Hunter
Super Reviewer
I don't think anyone could prance around in an outrageous gray ponytail besides James Woods. He plays a very unique type of hippie lawyer that I don't think i've ever seen before. Robert Downey Jr. also gives a classic performance as a bookish new lawyer trying to do the right thing. The story is interesting in that it examines two very important topics at the time, gang violence and racism. While those are two topics that get thrown around all the time, this combines them in a very unique way.
Conner Rainwater
Super Reviewer
True Believer Quotes
There are no approved quotes yet for this movie.