True Grit
(1969)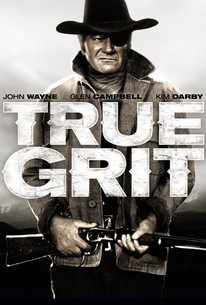 TOMATOMETER
AUDIENCE SCORE
Critic Consensus: True Grit rides along on the strength of a lived-in late-period John Wayne performance, adding its own entertaining spin to the oft-adapted source material.
Movie Info
In fine Hollywood tradition, John Wayne had to play a "one-eyed fat man" before the Motion Picture Academy considered him worthy of an Oscar. In True Grit, Wayne plays grumpy, pot-bellied U.S. marshal "Rooster" Cogburn, hired by 14-year-old Mattie Ross (Kim Darby) to find Tom Chaney (Jeff Corey), who killed her father. The headstrong Mattie could have had her pick of lawmen, but selects the aging Cogburn because she believes he has "true grit" (she talks this way all through the picture, so be prepared). Also heading into Indian territory in search of Chaney is Texas Ranger La Boeuf (Glen Campbell), who wants to collect the reward placed on the fugitive's head for his earlier crimes. Complicating matters are Chaney's scurrilous cronies Ned Pepper (Robert Duvall), Quincy (Jeremy Slate), and Moon (Dennis Hopper), who have no qualms about killing a troublesome teenaged girl like Mattie. While the plot of True Grit, adapted (and streamlined) by Marguerite Roberts from the novel by Charles Portis, maintains audience interest throughout, the glue that truly holds this Western together is John Wayne, delivering one of his finest performances (though some believe he was better in She Wore a Yellow Ribbon). Wayne's casual charisma is infinitely more effective than the mannered method acting of Kim Darby and the floundering non-acting of poor Glen Campbell. And who could not love the climatic face-off between Duvall and company and John Wayne, whose "Fill your hand, you son of a bitch!" is not only a classic bit of dialogue, but the apotheosis of the Wayne mystique. In 1975, Wayne repeated his True Grit characterization opposite Katharine Hepburn in Rooster Cogburn, but the film failed to match its predecessor and the overall effect was blunted. ~ Hal Erickson, Rovi
News & Interviews for True Grit
Critic Reviews for True Grit
Audience Reviews for True Grit
John Wayne won his one and only Oscar for Best Actor in this exciting and riveting action-packed Western from Director Henry Hathaway that became one of the biggest boxoffice hits of 1969 in a year that was dominated with the return of the Hollywood Westerns that featured "Butch Cassidy and the Sundance Kid",and "The Wild Bunch". "True Grit" casts the legendary John Wayne,in the prime of his career playing Rooster Cogburn,an aging,hard-drinking,foul-mouthed United States Marshal who was once one of the West's best lawman in his prime. A teenage girl(played by Kim Darby)enlists his help in finding and tracking down the men responsible for brutally murdering her father. Along for the ride and adventure is country music superstar Glen Campbell,who not only sings the movie's theme song,but also makes his theatrical debut in this picture as a devoted and dedicated Texas Ranger who joins the odd couple in finding the killers responsible for her father's death,and bringing them to justice which will be a a task to deal with going against some dangerous desperados,among them Robert Duvall, Dennis Hopper,and Bruce Dern. This movie was also Oscar nominated for Best Original Song sung by Glen Campbell. This movie was so successful in 1969 that producer Hal B. Wallis brought John Wayne back in 1975 for the sequel to "True Grit" in the title role of Rooster Cogburn,but this time around screen icon Katherine Hepburn join him for the second installment. In 2010,directors Joel and Ethan Coen did the remake with Jeff Bridges in the John Wayne role that was also Oscar nominated for Best Original Adaptation Screenplay.
Mister Caple
Super Reviewer
A fourteen-year-old girl hires and accompanies a grizzled U.S. Marshal on a mission to avenge the death her father. It's rare that a re-make is better than the original, but the Coen Brothers accomplished more with this story and the characters than its progenitors. As I watched it, I couldn't help comparing the two. Jeff Bridges's Rooster Cogburn had more character, a chatty, damaged drunkard, but John Wayne is all of these things but muted; Bridges is an actor who takes more risks, unafraid to be seen vulnerable. What we don't get with Wayne's performance is any clue about why Rooster is the way he is; he's just the force that John Wayne has always represented. I did like this iteration of True Grit because it's a fine story and the characters are inherently interesting despite how much more fleshed out they are in the Coen Brothers' version. Of all the westerns I've seen, this is one of the least racist (the portrayal of Asians leaves something to be desired), and the tale is full of class tropes of revenge and heroes. It's nothing to think too deeply about, but it's a solid three-star film. Overall, despite the strengths of the original True Grit, if you're only going to see one version of this story, you should see the latest one. Overall, despi
Jim Hunter
Super Reviewer
½
True Grit is a masterpiece and is one of the greatest westerns in film history. John Wayne is a amazing actor, and in this he is probably the best person in the world who could play Rooster Cogburn. Kim Darby was my one problem with this film, she was annoying and boring and a terrible actor to play Mattie Ross. The plot was fun and and a well made adaption from the book. Overall, a classic movie, and the funny thing is, this film is my fathers #1 favorite film ever made, he made me watch this, haha.
Jim Careter
Super Reviewer
True Grit Quotes
| | |
| --- | --- |
| Reuben J. "Rooster" Cogburn: | If they wanted a decent burial they shouldn't had gotten themselves killed in winter. |
| Reuben J. "Rooster" Cogburn: | Them men wanted a decent burial, they should have got themselves killed in summer. |
| | |
| --- | --- |
| Reuben J. "Rooster" Cogburn: | Fill your hands, you son-of-a-bitch! |