True Legend
(2011)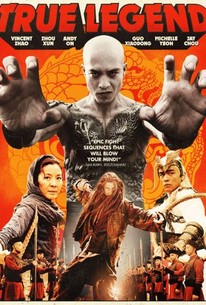 Movie Info
Yuen Woo Ping (The Matrix trilogy, Kill Bill Volumes I and II, Crouching Tiger, Hidden Dragon and Hero) brings you True Legend, a heart pounding epic about the timeless battle between good and evil. Su Can's (Vincent Zhao) respectable life is obliterated when his vengeful brother, Yuan (Andy On), returns from war armed with the deadly Five Venom Fists. Weakened but not destroyed, Su Can learns a never-before-seen form of martial arts: the Drunken Fist. Armed with this new power, he returns home to honor his family through retribution by taking on his brother in a battle to become the ultimate warrior. Packed with distinct fighting styles-including MMA, knife combat and sweeping aerial stunts- and starring martial arts legends Michelle Yeoh, David Carradine and Jay Chou, True Legend has Phillip French of The Observer raving, "It opens with one of the best action sequences I've ever seen." --(c) Indomina Media
News & Interviews for True Legend
Critic Reviews for True Legend
Audience Reviews for True Legend
½
Above average martial arts silliness elevated immensely by the amazing Woo-ping Yuen. As always, the choreography is beautiful to watch.
What an absolutely superb story of an awesome hero, Su Chan (Man Cheuk Chiu), a leading authority of the touching thoughts and feelings in martial arts journey. The story line is actually very consuming once you become endeared by the characters, whom I might add are supremely crafted. I mean how can you not think the 'God of Wushu' is not cool. It's been a long while since Yuen Woo Ping helmed a film as a director, and here he applied plenty of wire-fu liberally to craft a film that provided for some fantastical elements in its martial arts. Zhou Xun is a fine actress, and her presence here provided that well needed contrast of acting ability compensating for the lack thereof in Zhao's, starring as Su Chan's wife Ying, the pillar of strength, confidence and hope. Andy On played Yuan Lie with enough creepiness and ruthlessness that he may be one of the more memorable martial arts villains amongst recent kung fu films, adding to that his treading the extremely thin line of incest as well with Ying, in wanting to be together forever with her. I was surprised to see three special appearances I recognized in this martial arts epic film.
Dean McKenna
Super Reviewer
½
a film with a good although dishevled story, it really stands on the astonishing action sequences. the fighting is top shelf, and although the narrative could have been a lot stronger, it is well worth the time for those into kung fu films.
True Legend Quotes
There are no approved quotes yet for this movie.