True Lies
(1994)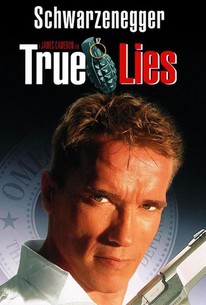 TOMATOMETER
AUDIENCE SCORE
Critic Consensus: If it doesn't reach the heights of director James Cameron's and star Arnold Schwarzenegger's previous collaborations, True Lies still packs enough action and humor into its sometimes absurd plot to entertain.
Movie Info
Borrowing liberally from the French film La Totale, this is an action picture, domestic comedy, and political thriller rolled into a crowd-pleasing ball of entertainment. Producer James Cameron wrote and directed the film. Henry Tasker (Arnold Schwarzenegger) is a workaholic computer salesman neglecting his mousy wife Helen (Jamie Lee Curtis), a legal secretary. Simon (Bill Paxton) seduces Helen with the lie that he is a secret agent; he's really a used car salesman. Harry suspects that Helen is cheating on him, and he sends a few colleagues to kidnap them. Helen then discovers that Harry is a secret agent by night, working for a shadowy group called the Omega Sector. Harry and his partner Gib (Tom Arnold) are trying to find four nuclear warheads that have disappeared from a former Soviet republic.
Critic Reviews for True Lies
Audience Reviews for True Lies
½
One of my favourite action films, with plenty of humour almost like 2 films in one!
For an Arnold Schwarzenegger action-comedy film, this feels much more like the French thriller it's based on and less like a cheesy, over-the-top slaughter. James Cameron wrote and directed this film, and he makes another blockbuster action film feel like legitimate entertainment. There's a satiric intelligence and thoughtful touch to this film, and though filled with terrorism and political themes, it's less about a secret agent and more about a marriage. The gimmick of the film is that mild mannered salesman Harry Tasker is secretly an agent for the United States' government and hides it well from his wife and daughter. Most of the film follows this husband and wife around, as a series of misfortunate choices and misguided attempts at being truthful and/or provocative, keep the pair at odds. In a series of events that one would call morally questionable, Harry follows his wife as she tries to find a sense of danger in her life. This lends to the narrative of the terrorist leader launching an attack on the US for senseless violence overseas. Even though much of this revolves around some very farfetched ideas, and the antagonist is outrageous, it's Cameron at his most divisive and calculated. He knows what feels right in an action film, and even tries his hand at comedy, and that isn't always easy. Much of what makes this enjoyable solely lies in the performance of Jamie Lee Curtis, who is both right as the suburban mother and surveyor of action, and as the seductress. While Schwarzenegger does the job of action hero to credit as always that's all that can be said. As always there isn't much difference between this and any other Schwarzenegger performance, though he is perfect for this film, even if the role certainly calls for an American. Mostly it's a film to watch and go agog at the timeless special effects and fight scenes, and even for a chuckle once in a while.
Spencer S.
Super Reviewer
½
James Cameron imagines "what if James Bond was married and didn't tell his wife what his job was?" Ah-nold and Jamie Lee supply oodles of chemistry. See how many times you can spot the stunt doubles! Tom Arnold's great as the sidekick.
Kevin M. Williams
Super Reviewer
True Lies Quotes
| | |
| --- | --- |
| Albert 'Gib' Gibson: | What kind of sick bitch even takes the ice cube trays? |
| | |
| --- | --- |
| Simon: | I have to lie to women to get laid. Even then I don't score much. I got a little dick, it pathetic! |
| | |
| --- | --- |
| Simon: | Men want this car for only one reason: pussy! |
| | |
| --- | --- |
| Simon: | Let's face it. The 'Vette . . . get's 'em wet! |
| Simon: | Let's face it. The 'Vette... get's 'em wet! |