The Truth About Charlie
(2002)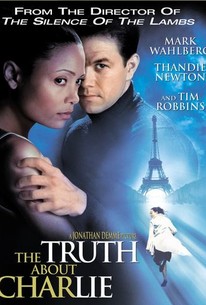 The Truth About Charlie Photos
Movie Info
Director Jonathan Demme filters the classic Audrey Hepburn and Cary Grant vehicle Charade through the influence of the French New Wave in this stylish romantic thriller. Regina Lambert (Thandie Newton) has been having second thoughts about her marriage to the often enigmatic art dealer Charlie (Stephen Dillane), and decides to take a vacation without him, where she meets Joshua Peters (Mark Wahlberg), a handsome and charming American who seems quite taken with her. When Regina returns home to Paris, she receives the startling news that her husband has been murdered; however, even more disturbing is her discovery that her husband had a secret life which involved several passports under different identities, and a missing six million dollars. Police official Commandant Dominique (Christine Boisson) seems to believe that Regina is somehow involved in the crime, while U.S. embassy representative Mr. Bartholomew (Tim Robbins) breaks the news to Regina that her late husband was actually a secret agent involved in some very shady operations. Three mysterious and dangerous figures who had ties to Charlie -- Emil Zadapec (Ted Levine), Lola Jansco (Lisa Gay Hamilton), and Il-Sang Lee (Joong-Hoon Park) -- also arrive in Paris, convinced that Regina knows where her husband stashed the money and determined to get their hands on it. Meanwhile, as Regina's life becomes increasingly chaotic and dangerous, Joshua arrives in Paris and a romance begins to blossom between them, but while he seems determined to do whatever he can to help her, Regina soon has reason to doubt that Joshua's motives are as pure as they seem. Shot on location in Paris, The Truth About Charlie also features cameo appearances from a number of legendary French actors and filmmakers, including Charles Aznavour, Anna Karina, and Agnès Varda.
News & Interviews for The Truth About Charlie
Critic Reviews for The Truth About Charlie
Audience Reviews for The Truth About Charlie
Very cool film that doesn't quite approach the level of Matt Damon in the Bourne series but is nonetheless tremendously entertaining with many delightful and unexpected cameos.
John Ballantine
Super Reviewer
Tak Fujimoto and Jonathan Demme have shot this a lot hipper than anyone half their age could. Thandie Newton is great & funny, magically cute at few moments, and beautiful the rest of the time. She would make a fine, and definitely sexier, replacement for Audrey Hepburn in several films. The writers seem to have assumed that since no one can compete with Cary Grant, Mark Wahlberg shouldn't have good lines to work with. The homages to the French New Wave are clever and prettily situated, but they dispel the suspense atmosphere, and -- for me -- make the movie look like it's catering to anglophone snobs who can't stand a mere thriller. And Demme doesn't want to do a mere thriller that's hipper and more involving than usual. He casts the bad guys as an ethnic rainbow, and it turns out none of them are really bad, just misunderstood and misunderstanding other people. (Scary hook-hand guy from the original is now just a big lunk who requires electroacupuncture so he doesn't expire from cardiopulmonary stress -- I'm serious.) Each of the bad guys even hates violence; the only one comfortable with it is a betrayed 50s straight-arrow military type that was too unhip to be in the original Charade. Demme's kind of liberalism seems to aspire not only to banish all sense of menace from society, but also from its movie genres. (Star rating for Tak Fujimoto and Thandie Newton.)
Adam Mahler
Super Reviewer
½
Have you ever watched a movie and thought that you've seen it already. That happened to me with this movie. It was as interesting the second time as the first. The only thing I could remember from the first time to the second was that stamps were involved. The movie is a whodunit, except from the point of view of a new wife who returns from a vacation and finds her husband has been murdered. It takes the whole movie for her and the viewers to find out about the husband's prior life and who killed him and why.
The Truth About Charlie Quotes
There are no approved quotes yet for this movie.