Truth or Consequences, N.M.
(1997)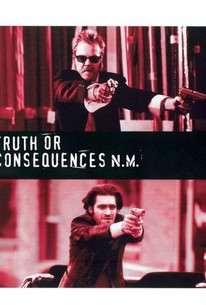 Truth or Consequences, N.M. Photos
Movie Info
Actor Keiffer Sutherland makes his feature-film directorial debut with this hip, ironic road movie/crime drama that is big on pulp-fiction style but lacking in originality. With a big tip of the hat towards Quentin Tarantino's work, the cliched tale centers on lovestruck ex-con Raymond Lembecke (Vincent Gallo). After serving time for a crime committed by the drug lord he worked for, Raymond hooks up with his lover Addy (Kim Dickens) and reunites with his former crime cronies Markus (Mykelti Williamson), an undercover DEA agent, and the violent Curtis (Sutherland), who is barely able to control his psychosis. Their plan is to rob the drug dealer and head for Vegas, but the heist goes terribly wrong and the foursome must take it on the lam. En route to Sin City, they hijack an RV driven by the nicely average Gordon and Donna (Kevin Pollak and Grace Phillips). The cops, and eventually gangsters and drug dealers, are right behind them. As the desperate crooks launch a campaign of violence and death across the Southwest, poor Donna is appalled to see Gordon being lured in by the romantic fallacies of criminal life. The film reaches its bloody climax in a small New Mexico town.
Critic Reviews for Truth or Consequences, N.M.
Audience Reviews for Truth or Consequences, N.M.
A powerhouse crime-thriller that's crafted with intense dedication and riveting performances. Director - Co-Star, Kiefer Sutherland is a knockout, his performance is explosive and his direction is brilliant. A heard-edged film that has all barrels-blazing, is darkly funny and has intriguing character development. A riveting and action-packed thrill-ride that actually has consequences to the characters actions and showcases great talent from the cast. Vincent Gallo is terrific. Martian Sheen is wickedly cool. A powerful, stylish and ferocious movie that underneath all its gruff lies a heart.
½
I watched this one because Mykelti Williamson is in it and I'm trying to watch all his movies. Neat little thriller about a group of ex cons who while ripping off a drug dealer accidentally kill an undercover cop, forcing them to take to the road. They head for Las Vegas to sell the stolen drugs taking along with them a couple as hostages as they are pursued by both the cops, and the drug dealers associates, who are not best pleased with what they have done. The film moves at a reasonable pace and the acting is good, especially from leads, Gallo, Williamson and an evil Kiefer Sutherland, who clearly enjoys his role as the psychotic Curtis. It's just a shame that the plot seems to run out of steam for the last 20 or so minutes but it does come together again for an exciting finale. Well worth checking out. Sutherland also directed. 3 1/2 Stars 6-4-13
Bruce Bruce
Super Reviewer
Pulp Fiction it's not, and to call it Tarantino-esque would be overdoing it. Still, it's a fun enough ride, especially with a batshit crazy Kiefer Sutherland.
Jeffrey Meyers
Super Reviewer
Truth or Consequences, N.M. Quotes
There are no approved quotes yet for this movie.