Truth or Die
(2012)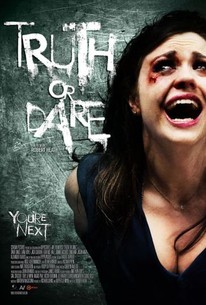 Movie Info
A group of college friends celebrate the end of term with a party to end all parties. During a drink and drug-fuelled evening, an innocent game of 'Truth or Dare' has a very sore loser, sparking a terrifying sequence of events and a whole new twist on the game of Truth or Dare - where the truth can kill you.
Critic Reviews for Truth or Die
Audience Reviews for Truth or Die
½
It doesn't forgo its share of laughable contrivances, but at least it is always entertaining to see this amusing horror movie defy common expectations by playing with typical genre clichés and coming up with a delicious twist in the end and Jennie Jacques as the bitchy bad girl.
Carlos Magalhães
Super Reviewer
½
It was a simple graduation party in the suburbs of London, that was starting to get boring. With nothing else to do, the drunk teenagers decide to play Truth or Dare. One of the popular kids decides to use the opportunity to embarrass one of the less popular kids with disastrous results. In order to make it up to him, the popular kids agree to go to his birthday party, at a lavish country house, but when they get there, Felix isn't there. Instead the group finds his older brother, who forces them to play a more extreme game. I love the horror site Bloody Disgusting, and I watch most of what they recommend. For some reason they occasionally choose these obscure British films, with actors I've never heard of, and they almost always turn out like this. Truth or Die is unbelievably slow moving, and as expected, nothing really happens until the last ten minutes, and even that didn't make this film worth watching. As for the cast, it's no wonder I never heard of them, because most of them were absolutely terrible. The story is somewhat unbelievable to begin with, but add to that a bad cast, with thick accents, bumbling lines, and you get a film that is nearly unwatchable. I respect the opinions of our friends at Bloody Disgusting, but in this case, I don't know how they could have made this a selected film, it really is a complete waste of time.
Todd Smith
Super Reviewer
½
Decent low budget horror film, which doesn't cross the line to torture porn. The acting was alright. I thought the post card reveal was stupid, but the last twist was hilariously great.
Daniel Dolgin
Super Reviewer
Truth or Die Quotes
There are no approved quotes yet for this movie.