Tsui Hark's Vampire Hunters (The Era of Vampires)
(2002)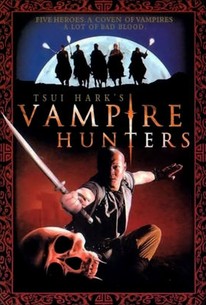 Tsui Hark's Vampire Hunters (The Era of Vampires) Photos
Movie Info
Hong Kong legend Tsui Hark brings you this tale of high-kicking vampire action. A quartet of kung fu masters trained in the Taoist Mao Shan School of magic are on the hunt for zombie vampires in 19th century China. When their Master Jiang (Yu Rongguang) disappears in an intense fight with one of these nasties, Rain, Lightning, Thunder, and Wind set across the countryside for revenge as the Vampire King continues to terrorize the surrounding villages. Through their quest, our heroes discover love and treasure as the legion of the undead hop around them wrecking havoc in true Hong Kong vampire fashion. ~ Jeremy Wheeler, Rovi
Critic Reviews for Tsui Hark's Vampire Hunters (The Era of Vampires)
Audience Reviews for Tsui Hark's Vampire Hunters (The Era of Vampires)
Another asian action-horror that really needed more story and character development to give it more depth. It's so full of plot holes and characters randomly appear from nowhere without any info on their backstory. It's as if the film starts at halfway through a story. Action-wise it is pretty entertaining and adds a bit of martial arts to the Vampire-slaying mix. It is very much an asian inspired take on the Vampiric genre but is actually more of a Zombie film. Decent entertainment overall, never boring or dull, but could have been better.
½
Master Mao Shan and his four best students?Wind, Thunder, Rain, and Lightning, are searching the countryside for Vampires. No one does Vampire films like this. Plenty of sword play. While searching they stumble on the lair of King Vampire and this dude can fight.. The film is full of great stunts and opens a new look at the vampires and zombies. 4 1/2 stars, get this one you will be blown away.
Bruce Bruce
Super Reviewer
It's more silly than scary and relies excessively on surprisingly low-rent CGI effects and crude wirework to drum up interest in the slight story. An uninspired addition to the generally endearing subgenre.
Steven Vincent Gee
Super Reviewer
Tsui Hark's Vampire Hunters (The Era of Vampires) Quotes
There are no approved quotes yet for this movie.