Tucker: The Man and His Dream
(1988)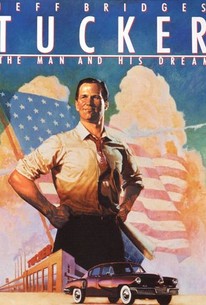 TOMATOMETER
AUDIENCE SCORE
Critic Consensus: Though it may not be as comprehensive as some would like, Francis Ford Coppola's cheerful biopic of the failed automotive designer features sparkling direction and a strong central performance from Jeff Bridges.
Tucker: The Man and His Dream Videos
Tucker: The Man and His Dream Photos
Movie Info
History tells us that would-be automobile mogul Preston Tucker was a silver-tongued con man, who misappropriated his investors' money and played fast and loose with ethics and legalities in the pursuit of his dream. Filmmaker Francis Ford Coppola isn't buying this: to hear Coppola tell it, Tucker was "Mr. Smith Goes to Detroit," a sincere visionary who tried and failed to buck the Big Three auto manufacturers. Moreover, he was a staunch defender of family values, as witness his inseparable relationship with his loyal wife (Joan Allen) and adoring children. It was for his family's sake, rather than any dreams of financial gain, that Tucker created the oddball three-headlight vehicle which he envisioned as the "car of the future". Naturally, the corporate fat cats of 1947 can't abide competition from a rugged individualist; thus, with several politicos in their pockets, they crush the Tucker and the man who built it. We'd have been more inclined to believe the story had Coppola adopted a straightforward Capraesque approach and not utilized all sorts of complicated camera trickery. Somehow, by presenting Tucker in so showoffy a directorial manner, the character comes off more as a sleight-of-hand artist than a bastion of sincerity. Even so, Jeff Bridges does a nice job as Tucker, as does Martin Landau as Tucker's incongruous business partner. Jeff's dad, Lloyd Bridges, appears in an uncredited role as a "bought" senator.
Critic Reviews for Tucker: The Man and His Dream
Audience Reviews for Tucker: The Man and His Dream
½
Last night I watched Tucker: The Man and His Dream, starring Jeff Bridges and directed by Francis Ford Coppola. This is the true post World War II story of a man who got screwed by the Big Three American automotive makers. Screwed why? Because he had the audacity to design a car that stressed safety and could be produced and offered at low prices. What could be worse for the progress of the automobile, right? Well, now days many of his ideas have been stolen, I mean implemented, by other companies, things as basic and smart as safety belts and padded dashboards. If you like cars, you'll love this movie. Tucker only produced 50 cars, but there are are still perhaps 44 or 45 in existence. You can bet they're not inexpensive now, guaranteed. I'm biased because Bridges is one of my favorite actors; he always gives you your money's worth. A true professional. And Martin Landau, nominated for an Oscar for his performance here, does one of his best jobs ever, right up there with his portrayal of Bela Lugosi in Ed Wood, for which he did win an Academy Award. But these beautiful cars are the true stars of this show. All fifty perform a parade sequence at the end that is stunning. They look like 50 pieces of candy. You want to bite into them. Hollywood did one hell of a great job building those cars for this movie.
Lanning : )
Super Reviewer
½
Tucker. Never heard of him till I stumbled upon this movie (which was just yesterday). Or should I say that I'd never heard of this movie till y'day??!!! (Take your pick from the one that sounds more appealing.) Maybe because the movie didn't have any moment that lingers in your mind for long. Everyone have put in their sincere effort at every level, but not exceptional. The fact that it's based on real life person who struggled hard for success (and whose life story could have been more inspiring) doesn't help it any because it has a feel of "been there, seen it all". As much as I applaud his efforts to realize his dreams, I still gotta admit that the movie was a plain mediocre which doesn't incline me the least to learn more about him or check out how much historically correct the movie was (which happens more often than not for such movies). PS: I know some might feel that it's not fair to consider a movie mediocre just because it's presented without much dramatization, but that's how the score stands for me. Can't fight fact!!!
familiar stranger
Super Reviewer
½
Coppola's tribute to Preston Tucker, inventor and loose cannon, is an enjoyable biopic with some messages relevant even today. While the story takes the most optimistic view of the emergence of the Tucker automobile, it's appropriate, since Tucker himself was one of those irrepressible optimists. Jeff Bridges is fascinating as Tucker, and you can't help catch the fever and root for him, and his car. There's a number of good acting turns in this film, including a bizarre appearance by Dean Stockwell as Howard Hughes. Coppola nicely reproduces the atmosphere and media frenzy of the time, as well as an interesting courtroom scene. The film clips right along, and you get an interesting view of the power of the established US car companies (how far they've fallen since then!) after the Second World War. Some liberties were taken with the historicity to fit the screenplay, but overall, it captures the essence of who Tucker was, and what his cause faced. The film wasn't a commercial success, but it's worth your time because of the interesting subject matter, and a great 'underdog' story. Recommended.
Tucker: The Man and His Dream Quotes
There are no approved quotes yet for this movie.