Tulip Fever
(2017)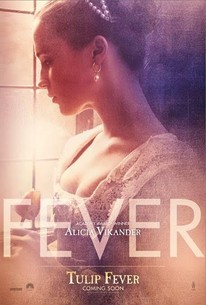 Movie Info
In 17th Century Amsterdam, an orphaned girl (Alicia Vikander) is forcibly married to a rich and powerful merchant (Christoph Waltz) - an unhappy "arrangement" that saves her from poverty. After her husband commissions a portrait, she begins a passionate affair with the painter (Dane DeHaan), a struggling young artist. Seeking to escape the merchant's ever-reaching grasp, the lovers risk everything and enter the frenzied tulip bulb market, with the hope that the right bulb will make a fortune and buy their freedom.
News & Interviews for Tulip Fever
Critic Reviews for Tulip Fever
Audience Reviews for Tulip Fever
Twisty to the point of complete stupidity, this sumptuous period drama may be relatively impressive with its production design and costumes but in the end is nothing more than a cheap soap opera that can't even entertain us with its corny display of ardent sexual desire.
Carlos Magalhães
Super Reviewer
½
Suspenseful and full of intrigue, Tulip Fever is a gripping period drama based on a bestselling novel. The story follows a young wife who's unable to conceive and after falling for a painter plots to fake a pregnancy and childbearing death in order to run-off with her new lover. Featuring Alicia Vikander, Dane DeHaan, and Christoph Waltz, the cast is rather impressive and gives strong performances. However, the writing is weak and does a poor job at developing the romance and the tulip subplot. Still, the sets and costumes are incredibly well-done, as is the score; which adds a lot of tension and drama to the film. Tulip Fever has some storytelling problems, but overall it delivers a fairly compelling tale of love, betrayal, and sacrifice.
Dann Michalski
Super Reviewer
½
We are witnessing the death knells of the Weinstein Company, and in its darkest hour emerges whatever the hell Tulip Fever is. Mired in production hell for over a decade and delayed release for three years after filming, the film amounts to a laughable period piece with an epic lack of focus. It does for historical fiction what The Space Between Us did for YA sci-fi. For all its presumptive wit, the laughter comes more from the fact that so much talent went into making such an obliviously crappy film. Judi Dench, Christoph Waltz, and Alicia Vikander all put in a valiant effort towards retaining their dignity, but even they couldn't act themselves out of this cinematic quicksand. They aren't really given characters to work with, and I think you can even see the dissatisfaction they have for their parts in certain scenes. For some reason Dane Dehaan and Cara Delevigne are given some of the top billing despite the fact they get a relatively small amount screen time. Perhaps Weinstein and co. were hedging their bets that Valerian and the City of a Thousand Planets would propel that not-so-dynamic duo on to the A list, and when that didn't work out they cut a bunch of their scenes. Regardless of the people involved, the story seems like it's trying to do too much while doing nothing at all. Most synopses you will find refer to a secret love affair between Dehaan and Vikander while they try to sell tulips or something. That is a gross misrepresentation of the "plot", if you can call it that. Even after seeing some of the most dense and surreal Bergman, Malle, and Wenders films, I had at least a tenuous grasp on what those films were doing. Upon viewing this confusingly edited and poorly told story, I am truly baffled over what the filmmakers were trying to accomplish here. Perhaps I'm giving it too much credit, but I shudder to think that someone went through all of this trouble to make a movie that simplistically whimpers "babies are good, and flowers are pretty".
K Nife Churchkey
Super Reviewer
Tulip Fever Quotes
There are no approved quotes yet for this movie.