Tune in Tomorrow... (Aunt Julia and the Scriptwriter)
(1990)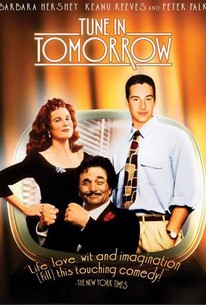 Movie Info
Tune in Tomorrow is based on Mario Vargas Llosa's novel, Aunt Julia and the Scriptwriter. In New Orleans, circa 1951, a news writer for a local radio station, Martin Loader (Keanu Reeves), meets and falls in love with his aunt Julia (Barbara Hershey), a divorced woman who is looking for a new husband. Meanwhile, new-in-town eccentric radio-soap-opera writer, Pedro Carmichael (Peter Falk) has been hired to help boost the station's bad ratings. Pedro begins manipulating Martin and Julia's affair and using it as the basis for his radio show. Director Jon Amiel uses the same story-within-a-story construction from The Singing Detective, the miniseries that he directed for British television. ~ Linda Rasmussen, Rovi
Critic Reviews for Tune in Tomorrow... (Aunt Julia and the Scriptwriter)
Audience Reviews for Tune in Tomorrow... (Aunt Julia and the Scriptwriter)
½
I used to be a shameful drooling Keanu Reeves fan, I can't believe I've never heard of this one! July 31st, MMXII: Aaaand there's a good reason for that. This movie tries too damn hard and just doesn't have what it takes. It's not funny. At best it's droll, but you can pick out the spots where you're supposed to laugh and just don't. I can think of only one gag that I found amusing. I spent most of the running time of this movie looking at my watch. Every character that was supposed to be endearing was wooden at best and irritating at worst. Peter Falk was the worst offender. I watched this movie all the way to the end before I realized that I had sat through this piece of crap once before. I just wish I had learned the first time.
Emily Armstrong
Super Reviewer
This was surprisingly irrevrent and fun - not to mention hilarious. It's an interesting story with some great one-liners and just an overall fun atmosphere. It also has a sensational cast with Peter Falk, Hope Lange, Peter Gallagher, Elizabeth McGovern and Patricia Clarkson, all with great supporting parts. However, the only glaring flaw of the cast is actually its two leads: Keanu Reeves and Barbara Hershey. Keanu just feels like he doesn't belong in this movie and barely squeeks by with a lackluster performance while Barbara just doesn't seem all that into it. If these two parts had been cast with more appropriate actors, this could have been a real classic. I do think it's a sort of classic as is, but there's room for improvement. Overall, it's definitely enjoyable and should give you a few laughs.
Tim Salmons
Super Reviewer
½
Strange little comedy with Reeves falling, understandly, for aunt Hershey, only to find that manic, Albanian-hating, scriptwriter Falk is using their romance in his soap-operas.
Dean McKenna
Super Reviewer
Tune in Tomorrow... (Aunt Julia and the Scriptwriter) Quotes
There are no approved quotes yet for this movie.