Tunes of Glory
(1960)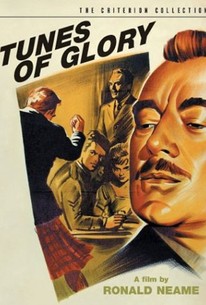 Movie Info
Two excellent actors shine in powerful roles in this drama by Ronald Neame that pits one Scottish army colonel against another. Alec Guinness is Lt. Col. Jock Sinclair, a man who temporarily takes over command of a regiment until his replacement, Col. Basil Barrow (John Mills) arrives. Sinclair comes from the lower echelons of the social order but was at least able to work himself up the echelons in the military hierarchy. He is fairly well-liked though still a little rough around the edges for some. When Barrow takes over, the two men clash almost at once. Barrow is from the upper crust, went to all the "right" schools, and believes in discipline and then a little more discipline, as well as efficient and proper bureaucratic processes. The differences between the two men threaten to rupture the unity of the regiment, especially after Sinclair assaults a soldier he finds in the company of his daughter. Barrow opts to report his behavior, leading to a climactic series of events.
Critic Reviews for Tunes of Glory
Audience Reviews for Tunes of Glory
Alec Guinness eats scenery left and right and John Mills seeths on the sideline as two Scottish officers clash in a bloody war of the wills. At stake is an idea: what kind of Army, and by implication, what kind of civilisation do we have? One run by thugs acting like gentlemen, or one where gentlemen act like thugs? (Decide for yourself where you fit in the scheme of things while you watch) By no means just a two man show a regiment of supporting cast hold the flanks of this excellent, if old school, production. A must see if you've an interest in things military washed clean of propagandist rhetoric.
Kevin M. Williams
Super Reviewer
Tunes of Glory Quotes
There are no approved quotes yet for this movie.